A couple of weeks ago we noted the appearance of some photos of graphics cards claimed to be models of upcoming AMD Radeon RX 500 series designs. The photos were said to show RX 570 and 580 engineering sample graphics cards. Accompanying reports asserted that these cards were rebrands of the RX 400 series with tweaked GPU and/or memory speeds.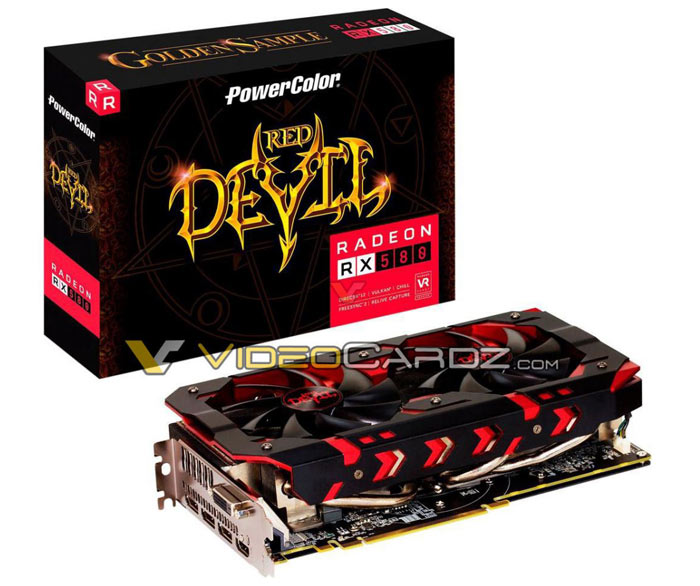 Today VideoCardz has published some new pictures and information sourced from China's Baidu (original link now greeted by a 404 error). Last week there was an official PowerColor teaser of the RX 580 Red Devil (just a photo of the glowing logo in the dark). Now we get to see some box art and product photos from multiple angles showing a purported PowerColor RX 580 Red Devil Golden Sample.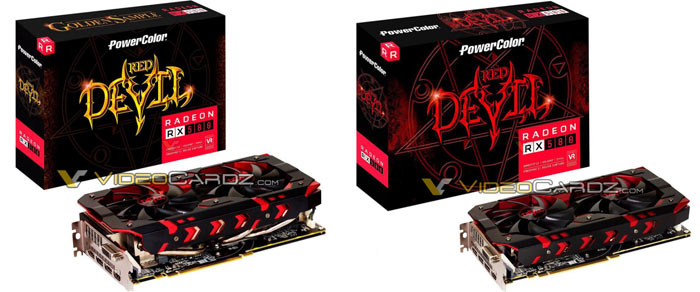 The Golden Sample card has a golden 'Red Devil' logo on the box, as you can see above. In the comparison shot, with the 'regular' Red Devil, you can also see the increased product thickness of the Golden Sample card. Its 2.5 slots thick.

A beefier cooler, requiring an extra half slot of thickness in the product design, is present in the Golden Sample. In close-up shots you can see at least three heat pipes protruding from beneath the dual fan assembly. VideoCardz says it is a full custom design with 6 phase VRM onboard. Furthermore, it sports 6+8 pin power connectors rather than a single 8-pin connector. Round the back you can see in one of the close-ups that there are DIP switches for LED control and to toggle the BIOS between OC and Silent modes. We don't have any information regarding GPU/memory clock speeds and pricing for these premium AMD partner cards.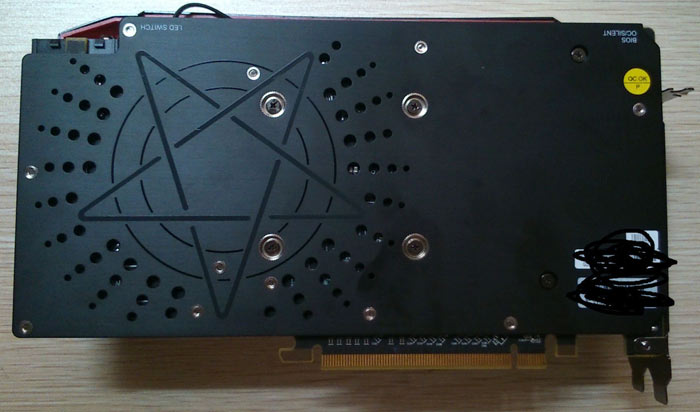 Last week we saw the first batch of online retailer listings for the new AMD Radeon RX 500 series cards, indicating that launch is imminent. Launch pricing seems optimistically high as is often the case, only to be corrected by market forces once the dust has settled / early adopters have paid premiums. HEXUS will publish thorough reviews of the AMD Radeon RX 500 series as and when they become available.