AMD's Capsaicin event concluded just a couple of hours ago. We got teased ahead of the event about some kind of Vega reveal, but perhaps it was just wishful thinking, as tech and launch details concerning Vega were rather thin on the ground. We did however see some interesting tech demos, hear some broad concepts about the Vega architecture, hear from Liquid Sky about a Vega powered 'GeForce Now' streaming platform rival coming mid-next-month, get news of a collaborative agreement with Bethesda, and see the final logo and name for Radeon RX Vega enthusiast graphics cards.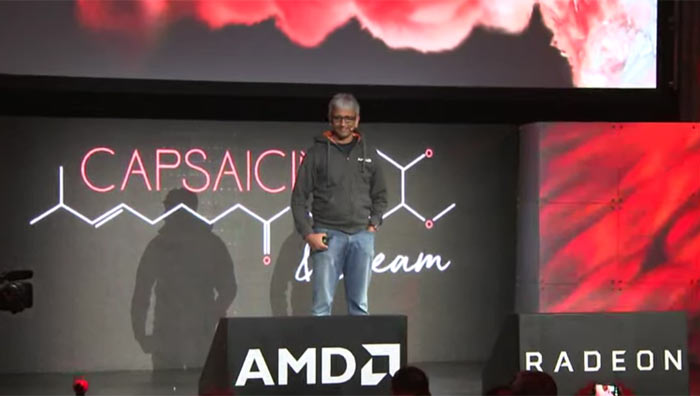 Vega architecture
As mentioned in the intro, there was no deep dive into technical aspects of Vega. For more tech info on Vega you can look back at the HEXUS article AMD Vega GPU architecture uncovered, from back in January. However, there were a couple of slides shown, summing up what Vega would offer and some talk about the possibilities it opens up.

On stage Radeon boss Raja Koduri claimed that Vega would "disrupt gaming, professional graphics, and artificial intelligence". The key to its abilities will come from four qualities. As the slide above shows, Vega introduces a High Bandwidth Cache Controller (HBCC), a next gen compute unit featuring RPM (Rapid Packed Math) capable of "doubling the rate of compute", a new programmable geometry pipeline, and an advanced pixel engine.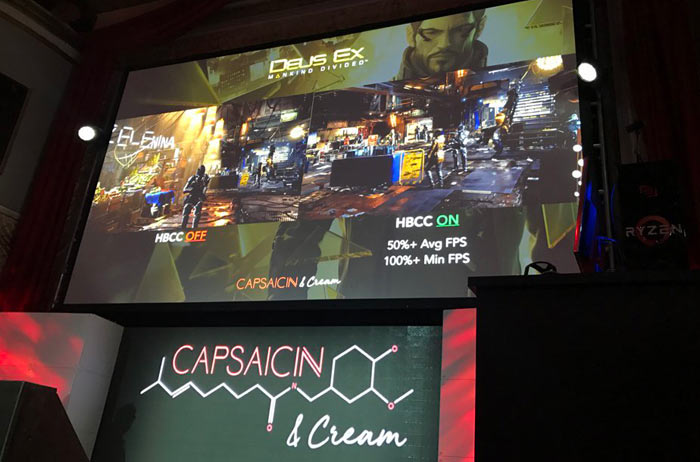 Evidence of the power of HBCC was shown at the event in a demonstration of Deus Ex: Mankind Divided. As you can see in the slide above, the new Vega architectural feature delivered impressive frame rate improvements 50 per cent greater frames per second on average with the feature turned on. Another demo showed impressive AMD TressFX tech acceleration thanks to Vega's RPM. With Rapid Packed Math turned on you could double compute rates and render twice the number of hair strands. There was some new VR acclerating tech touched upon in the presentation too; namely Asynchronous Reprojection and Forward Rendering technology.
Liquid Sky
Vega will enable AMD's entry and success in new markets. One such market is in servers used to render streaming video games. Ian McLoughlin, the boss of Liquid Sky, was brought on stage as his company will be using Radeon Virtualised Encode servers, powered by Vega GPUs.
Liquid Sky currently has 1.5 million users and from 15th March it will bring online Vega GPU servers to power a free gaming service similar to GeForce Now. The service will allow free play of AAA games such as Battlefield 1 streamed to devices such as Windows, Mac, Android, and Linux machines - which wouldn't normally be able to play such titles due to lack of GPU grunt. The service is free, in exchange for user interaction with some of Liquid Sky's advertising sponsors.
Bethesda deal
One of two 'big' things announced by Koduri towards the end of the Capsaicin event was a collaborative agreement with Bethesda. Collaboration "will ensure tech gets adopted at an exponential rate," asserted the Radeon boss. This will be a true engineering collaboration, insisted Koduri - it's not not just marketing fluff.
Apparently the collaboration between Bethesda and AMD in DOOM, using Vulkan, opened both parties' eyes to possibilities going forward. Raphael Colantonio from Bethesda / Arkane Studios joined Koduri on stage to talk about the deal. Apparently Bethesda is already working closely with AMD engineers on an FPS RPG sci-fi survival called Prey, which ships this May. Going forward we hope to see many more Bethesda games using the Vulkan API.
Vega naming - RX 490? RX 500? Nope.
Last but not least, this was a promised piece of 'Vega spice': the reveal of the name of the enthusiast Vega graphics cards when they hit the market. Koduri admitted that he was often asked about whether Vega will be part of the RX 400 series, or even the first of an RX 500 series. However the cards won't be numbered at all.
AMD RTG plans to introduce Vega graphics cards to the market simply as "Radeon RX Vega" cards. Then we saw a short video, its a kind of Vega branding sizzle video (in the above event video from 1hr 36mins onwards). At the end of the show Capsaicin attendees got a free T-Shirt with the new Vega logo on it.