AMD has published a teaser video and dedicated microsite over the New Year to whip us all into a tizzy over its Vega GPUs. The video isn't very informative but at the end points to a new microsite dedicated to all things Vega: you can find this at the stubby web address of ve.ga. Here you will find embedded the video that you've just watched, plus a 'Countdown to the Vega Architecture Preview' clock.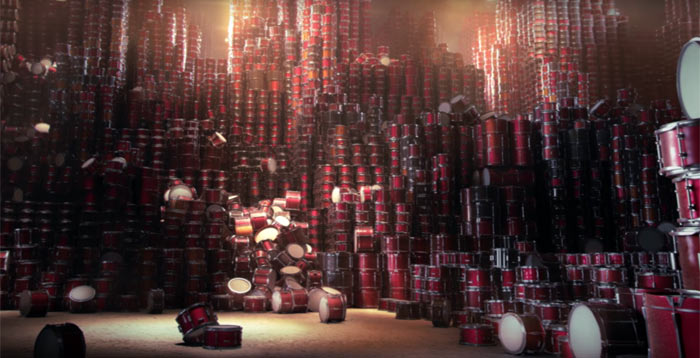 The video, below, offers more atmospherics than information. It carries on the theme of the 'Radeon Rebellion'. We see a boy wandering the 'post revolution' streets beating his drum. On his journey he passes by fly-posted slogan bearing Radeon 'propaganda' posters proclaiming 'VR is not just for the 1 per cent', 'give the people full control' and others. The video ends as the boy enters a large warehouse with thousands of drums similar to his, lit up on a stage. A closing message appears: 'The Radeon Vega Architecture Preview - Make. Some. Noise.'
AMD describes the video above as "In the wake of the Radeon Rebellion, the story continues..."
Unfortunately the website dedicated to Vega doesn't provide any further information. All we get is the countdown clock you can see a screenshot of below. To save you some calendar maths, the countdown timer will reach zero on Thursday 5th January at 2pm UK time. That's the first day of the CES 2017 proper.

Nvidia is counting down too
As mentioned back on Friday, Nvidia is also counting down to an event scheduled for just a few days from now. The green team promise 'something big' on 5th January and the Nvidia CEO is delivering a keynote before the opening of the show that will be live streamed (on Wednesday 4th January [6.30pm PST - that's Thursday 2.30am GMT]).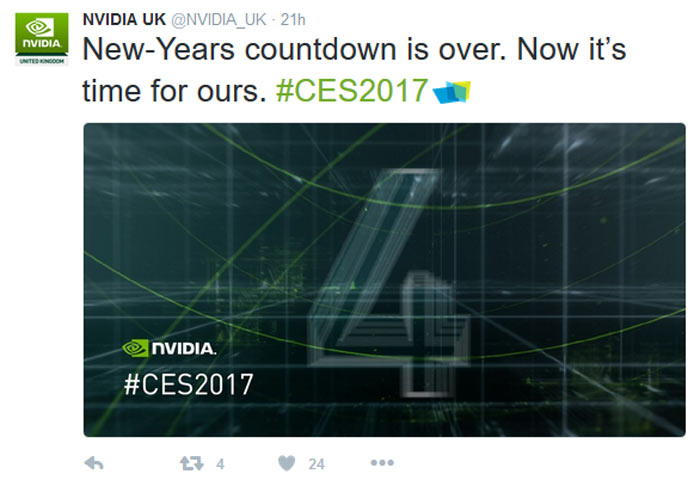 Nvdia UK has continued its countdown to the 5th, via Twitter. Nvidia Germany isn't missing the change to stir up green team supporters on the continent by uploading a website with a countdown timer. This timer will reach zero on Thursday 5th January, at 2.30am UK time (that's Wednesday 4th January 6.30pm in Las Vegas - so this is simply a countdown to the keynote, different from the Nvidia UK Twitter teasing).