AMD's major new driver software release was teased yesterday. Minutes ago the drivers, feature blogs, and YouTube videos about the new drivers all went live. The headlining features introduced in the new driver set are; the ReLive optimised screen recording and streaming, Radeon Chill, a new install experience, FreeSync with fullscreen borderless window mode, and WattMan extended support.
ReLive optimised screen recording and streaming
This is the feature from which the new drivers take their name. AMD gamers can now simply 'relive' their gameplay glory by capturing, streaming, and sharing recorded gaming sessions. Integrated within the Radeon software the feature is said to be both efficient and seamless to use. It isn't just useful for games though, it can be a valuable function for collaboration, training, and customer support professionals.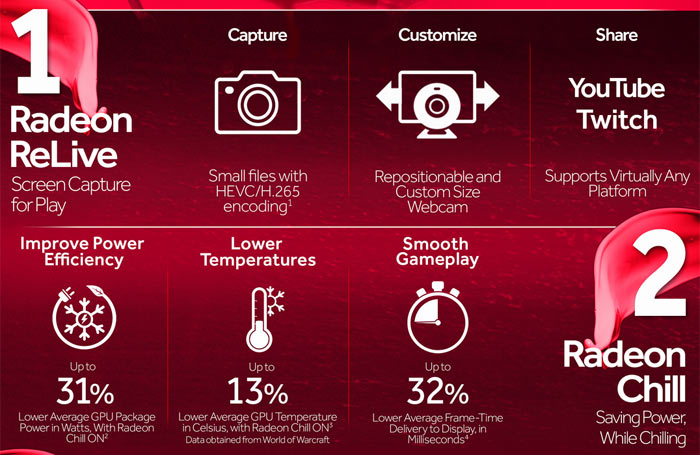 Radeon Chill
This is described by AMD as "a power-efficient framerate controller for Radeon graphics that dynamically regulates framerate based on the speed of the mouse movements". The feature reduces energy consumption with the promise of "maintaining an excellent end-user gaming experience." Users will enjoy the same smooth gameplay but benefit from cooler and quieter systems, says AMD.
A 'deep dive' video about Radeon Chill technology, hosted by AMD's Scott Wasson, is embedded above.
FreeSync with fullscreen borderless window mode
This feature is said to bring "effortless switching between applications". Furthermore FreeSync should now provide even smoother gradual refresh ramping for improved user experiences.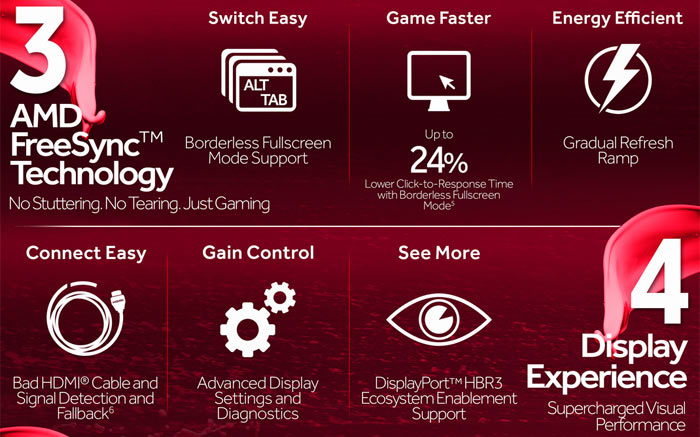 Other things AMD would like to highlight are that WattMan now offers extended support. It doesn't just work with the RX 400 series of graphics cards but the Radeon R9 Fury series, R9 390 series, R9 380 series, R9 290 series, R9 285, R9 260 series, R7 360, and R7 260 desktop graphics products. Last but not least a new install experience, and the stability established with Crimson Edition drivers will continue with ReLive, promises AMD.
The Crimson ReLive Edition 16.12.1 drivers are available to download now. The Windows 10 64-bit edition, for example, weighs in at 500MB, and you can check through the release notes here.
Pro Edition
If you are a Radeon Pro hardware user, AMD is touting; professional-grade certifications and stability, Pro ReLive features, improved Linux support, the Radeon ProRender physically-based rendering engine, and Radeon Loom video stitching as standout driver software features.