The review editor over at Tom's Hardware got a nice surprise when an early sample of an Intel Core i7-7700K Kaby Lake processor landed unexpectedly on his desk. The opportunity was taken to give this chip a pretty thorough benchmark and comparison testing session against the chip it will replace, the Intel Core i7-6700K Skylake processor. It is noted that Intel declined to comment upon Tom's Hardware's findings. The Core i7-7700K sample isn't marked as an engineering sample, yet we can't be sure it is a retail sample either.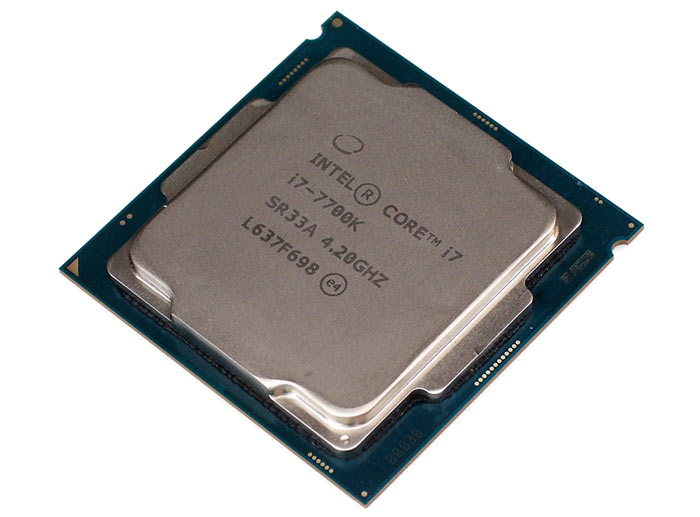 Intel is promising 300-400MHz higher clocks with its 14nm+ process, facilitated by transistor fin optimisation. The sample Intel Core i7-7700K Kaby Lake tested had base/boost frequencies of 4.2GHz/4.5GHz respectively. The predecessor i7-6700K offered a default base/boost of 4.0/4.2GHz. However the Kaby Lake chip is rated at 95W TDP compared to the 91W Skylake part. Below you will find power consumption and overclocking charts from Tom's Hardware tests.
On to the benchmarks… Editor Thomas Soderstrom went through various synthetic benchmarks, 3D gaming benchmarks and timed mixed task benchmarks to check out the bottom line for the King of Kaby Lake - if it shows worthwhile performance gains. Flicking through the various results I saw slight gains on most benchmarks. You can see the whole lot of them on page 2 of the review here. I've chosen just the Adobe Creative Cloud 2.0 timed test to reproduce below, as a typical and useful real-world reference.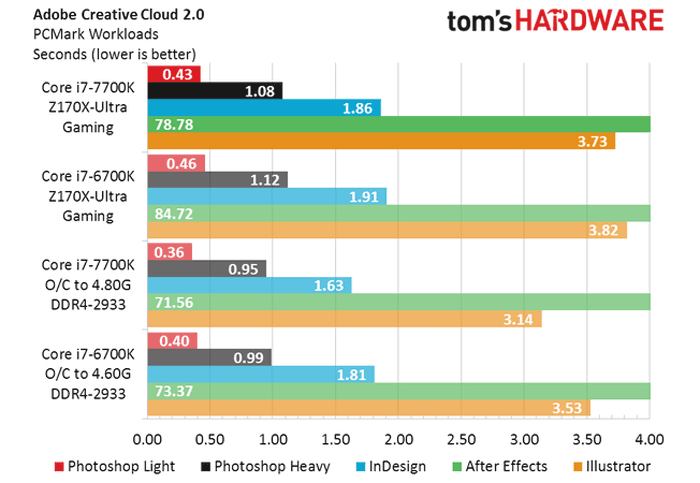 The review concluded with temperature and efficiency measurements. This was a particularly disappointing area of the review for the Kaby Lake Core i7-7700K, with the Skylake chip running much cooler when put under duress. Further damning results came from efficiency comparisons where the out of the box fresh i7-7700K used up to 28 per cent more power for an average 3.6 per cent performance gain.
The test system used a Gigabyte's GA-Z170X-Ultra motherboard with the latest Kaby Lake supporting BIOS. G.Skill DDR4-3600 modules were installed and the air cooling of the CPU was taken care of by a Noctua NH-U12S (testing a beefier NH-D14 saved a mere 3°C on the Kaby Lake temps).
At the end of the day these are early numbers, albeit from a trusted source. The Z270 platform and newer BIOS updates for 100-Series motherboards of various brands could make some telling difference to Kaby Lake benchmark figures.