The same Chinese tech site that published the Sapphire Radeon RX 470D NITRO review we mentioned in the news this morning has broken NDA to publish a full review of the Intel Core i5-7600K desktop PC processor. PCOnline's review includes all manner of details, performance and comparison charts.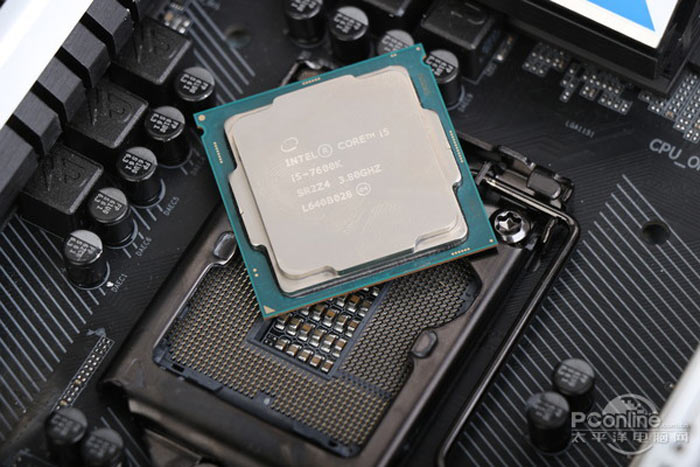 In essence, the Kaby Lake Core i5-7600K chip runs about 10 per cent faster than the previous generation Skylake Core i5-6600K but much of the performance gain comes from higher default base/boost clockspeeds. Furthermore, the new HD 630 graphics are very similar in spec and performance to HD 530 graphics. The GPU has however gained various hardware de-coding/encoding capabilities which might be valuable to frequent video makers and watchers.
Comparison of Core i5 Parameters of Three Generations in 14nm Process

CPU model

Core i5-7600K

Core i5-6600K

Core i5-5675C

Core code

Kaby Lake

Skylake

Broadwell

Interface Type

LGA 1151

LGA 1151

LGA 1150

Core thread

4/4

4/4

4/4

Frequency (GHz)

3.8-4.2

3.5-3.9

3.1-3.6

Memory support

DRR3L-1600 / DDR4-2133

DRR3L-1600 / DDR4-2133

DDR3-1600

Built-in GPU

HD 630

HD 530

Iris Pro 6200

Number of EU units

24

24

48

Level 3 cache

6MB

6MB

4MB

Level 4 cache

-

-

128MB eDRAM

Process

14nm

14nm

14nm

TDP

91W

91W

65W
As you can see tabulated above, the Core base/boost frequencies have received a worthwhile uplift in the new Kaby Lake chip. Looking at this aspect more closely, PCOnline put together the comparison table below:
| | | |
| --- | --- | --- |
| CPU model | Core i5-7600K | Core i5-6600K |
| Base frequency | 3.8 GHz | 3.5 GHz |
| Single-core maximum Core frequency | 4.2 GHz | 3.9 GHz |
| Dual-core highest frequency | 4.1 GHz | 3.8 GHz |
| Three-core highest frequency | 4.1 GHz | 3.7 GHz |
| Quad-core highest frequency | 4.0 GHz | 3.6 GHz |
I've collected some of the review benchmark results together and you can click the thumbnails below to see them full size. PCOnline used standards such as wPrime, WinRAR, and CineBench to compare the new Core i5-7600K with the Skylake Core i5-6600K and Core i7-6700K. As well as the 'CPU tests' embedded below it ran some gaming and graphics focussed tests.
The reviewer concludes that, while the Kaby Lake processors might not be worth waiting for, Intel's 200 series motherboards will be attractive for enthusiasts. It is reasoned that these (backwards compatible with Skylake processor) motherboards with their PCIe lanes boost, new tech and interfaces support will be the star attraction this time around.
Last but not least, the review suggests these new Kaby Lake desktop processors will be available from around the time of CES 2017 (early January).