Intel today launched the first chips in its highly anticipated 'Kaby Lake' 7th generation Core processor family. This initial selection of Y-Series and U-Series chips is destined for laptops and other compact form factor devices. In the headline improvements Intel promises "more responsive performance than ever before," efficient 4K entertainment viewing/streaming, gaming on the go, the thinnest and lightest devices ever and improved I/O support.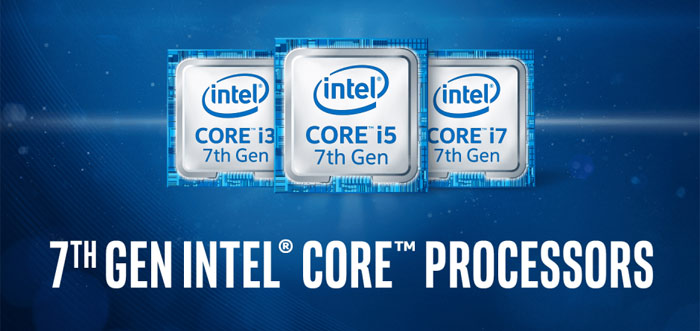 In an email to HEXUS, Intel supplied some broad performance improvements stats for the new processors. To add numbers to its 'faster and more responsive' claims, Intel says that a 14nm+ 7th Gen Intel Core processor delivers up to 12 per cent faster productivity performance, and up to 19 per cent faster web performance, over the previous generation Skylake chips.
4K video
Perhaps an even greater improvement comes for those who like to, or wish to, consume 4K content. Intel's 7th generation Core processors facilitate the creation, editing and sharing of 4K UHD and 360-degree clips up to 15 times faster than a 5 year old PC, thanks to the new media engine (Intel Core i5-7200U vs. Intel Core i5-2467M).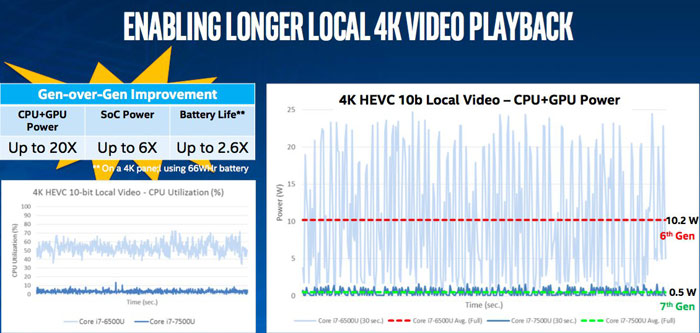 Efficiency is perhaps more impressive with Kaby Lake portables capable of watching over 9 hours of 4K content on a single charge. The new Core i7-7500U has a CPU utilisation rate of around 5 per cent and power usage of 0.5 watts when playing local 4K video, for example. The new chips manage this feat with hardware encoding and decoding for 10-bit HEVC 4K video and 8 to 10-bit VP9 video. Furthermore Kaby Lake supports the Dolby Vision and HDR10 HDR standards for a greater colour gamut.
Gaming
Beyond the impact from the double digit general computing performance hike, those who rely upon integrated graphics could see significant gains with Kaby Lake. Again compared to a five year old PC, the new Kaby Lake chips can provide a threefold increase in frame rates in modern games titles. Intel provides an example of playing Overwatch smoothly "anytime and anywhere on a thin, light laptop". If you need 'moar powah' Intel reckons that there will be many more devices provided with Thunderbolt 3 which can facilitate external GPUs.
I/O options
Both Y- and U-Series chips support Gen 3 PCIe for faster compact fixed storage options. The aforementioned Thunderbolt 3 connector will become more prevalent and it can do much more than external gaming graphics, providing multi-screen connections, mouse, keyboard, even up to 100W AC power supply, plus USB speed of up to 40Gbps.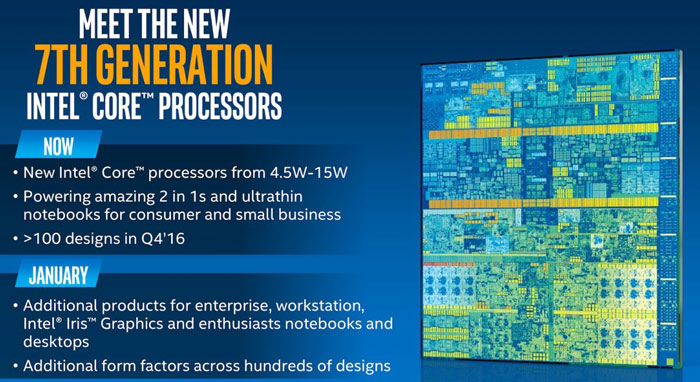 If you are interested in specific processors in the Y- and U-Series, Intel details three of each in its fact sheet PDF, all of which are configured as 2C/4T designs (listed on page 10 and 11). Designs featuring the new mobile 7th gen Intel processors will start to become available in September. Intel says that it has over 100 design wins for 2-in-1s and laptop products scheduled for release before Xmas.
For desktop Intel Kaby Lake chips, which many HEXUS readers will be most interested in, we will have to wait until January for official details and a launch.