Those expecting either Intel or AMD to launch any new CPU platform in H2 2016 are going to be disappointed, say Taiwanese computer industry sources. DigiTimes reports that there are "serious inventory issues," and a backlog of current gen stock to be cleared. It asserts that due to these factors both Intel and AMD will leave eager tech beavers waiting until CES 2017 in January.

According to previously seen roadmaps and information from press conferences and the like the Intel Kaby Lake platform and the AMD Zen chips were destined to launch in the third and fourth quarters of 2016 respectively. With new products on the way, related brand vendors are said to have been "aggressively clearing their inventory of older-generation models and preparing for the new products since May". However the supplies of new processors look like they will be significantly later. As mentioned in the headline, industry sources have indicated that Intel and AMD will now go head to head at CES 2017.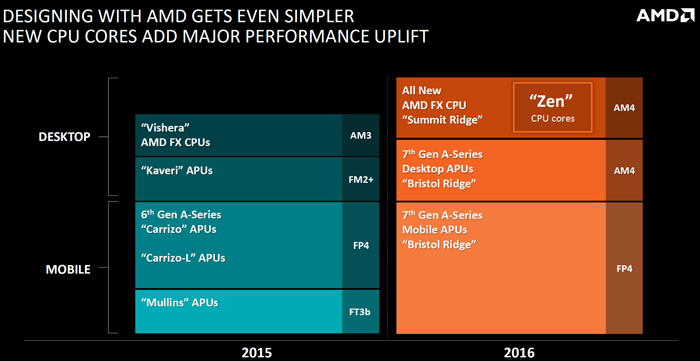 There seem to be differences in the reasons for the lateness of the two rival CPU platforms. In Intel's case, the combination of plenty of Skylake and Haswell-based inventory and the lack of "any major improvements from the previous-generation architectures," means Intel isn't going to rush Kaby Lake out. In AMD's case no such reasons are given but it was always going to be late in the year before launch anyway. With Zen being such an important new CPU for AMD, and being its first on Globalfoundries' 14nm process, there is undoubtedly a great deal of technical and business stringency required to make sure the CPUs are market ready.
PC supply chain manufacturers expect mass production of products to support these upcoming CPUs to begin in November and December this year.