Intel has launched eleven new 'Broadwell-EX' Xeon processors as part of two new processor families. The corporation is targeting business users who need to churn through "massive amounts of core business data plus new sources of unstructured data" to help them keep ahead of trends and formulate winning strategies. Intel says that its new Xeon E7 v4 processor families provide; performance, "the industry's largest memory capacity per socket," reliability, and the hardware security required by businesses working to make the most of real-time analytics.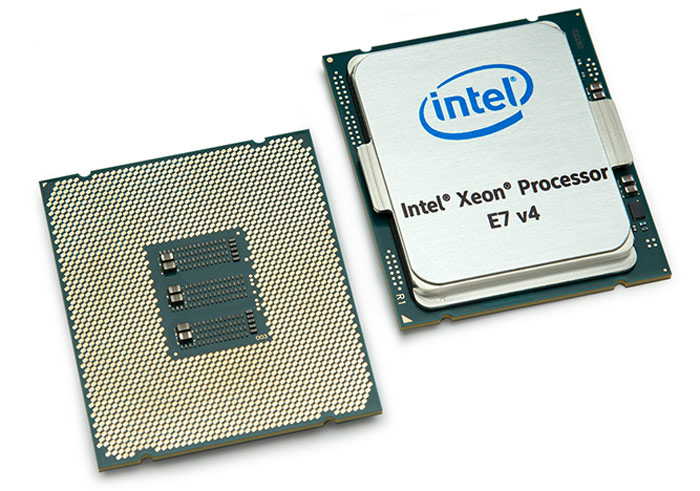 The Intel Xeon E7 v4 processor product salvo consists of four processors in the E7-4800 v4 family, and seven processors in the E7-8800 v4 family. These families support four socket and eight socket configurations respectively. Furthermore they are designed to be incorporated into configurations up to 256 sockets via third-party node controllers. Intel says that an eight socket system can be kitted out with up to 24TB of RAM for in-memory processing of massive datasets, speeding decisions made based upon such data.

While entry level SKUs in both families are quad core processors, the Xeon E7 v4-4XXX chips have a maximum of 16 cores, but the top Xeon E7 v4-8XXX processor, the E7-8890 v4, sports 24 cores. The top dog E7-8890 v4 can support 48 threads, operates at a base/boost frequency of 2.2GHz/3.4GHz, includes a 60MB cache, supports up to 3TB of RAM at up to 102GB/s, and is priced at $7174.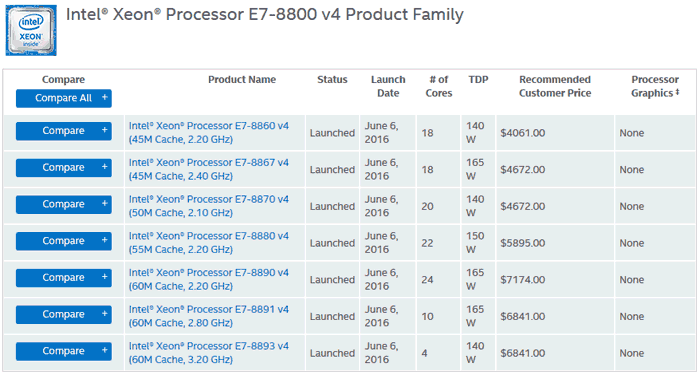 Comparing this top 'Broadwell-EX' processor against the previous generation Intel Xeon processor E7-8890 v3 (45MB Cache, 2.5GHz, formerly codenamed 'Haswell-EX') using the same platform, shows the new platform can offer up to 33 per cent faster SAP database queries, and up to 30 per cent faster On-Line Transaction Processing (OLTP) database transactions. Impressively, compared to the E7-4890 v2 'Ivy Bridge-EX', the new Xeons can power though ad-hoc queries as much as 4.6X faster.