Intel has scrapped development of the Atom processor family codenamed Broxton, which was intended to be launched to power high-end smartphones and tablets. Simultaneously the chipmaker has stopped development of SoFIA mobile SoCs which paired Atom processors with its modems for use in low-end mobiles and tablets. These moves are part of a big strategy change for Intel, which has found it difficult to compete against ARM's dominance in the mobiles and tablets market. Now it will try to make better use of its resources and follow a strategy aimed at 'growth markets' including the data centre, IoT, memory and FPGA businesses.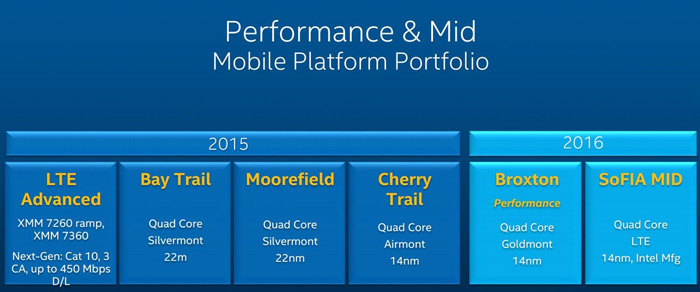 In a statement delivered to AnandTech, an Intel representative said that "I can confirm that the changes included cancelling the Broxton platform (for phones and tablets) as well as SoFIA 3GX, SoFIA LTE and SoFIA LTE2 commercial platforms to enable us to move resources to products that deliver higher returns and advance our strategy. These changes are effective immediately."
Intel's mobile chip venture has cost it quite dearly. In investing in OEMs, and persuading them to take its chips for mobile and tablet production, Intel's mobile division lost $3.1 billion in 2013 and $4.2 billion in 2014. In subsequent financial reports this financial data was obfuscated, as the mobile division was rolled into a new Client Computing Division.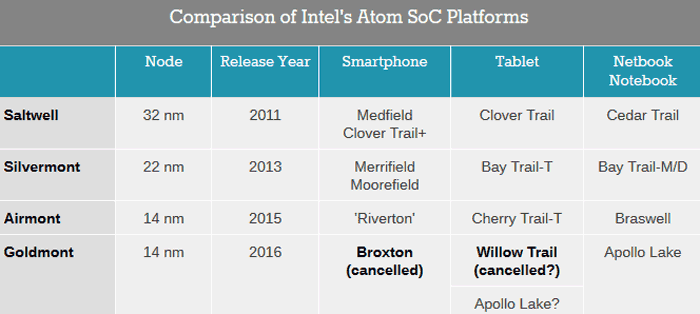 Broxton was intended to come packing Intel's newest generation 14nm Atom core, Goldmont. However we still expect to see Goldmont cores being used in Apollo Lake chips, aimed at devices such as Cloudbooks and 2-in-1s. As Intel specified that the Broxton Atom cancellations concerned phones and tablet markets we might still get some Willow Trail Atom chips in lower-end hybrids. Furthermore, moving up the price range slightly, we will see computers with Apollo Lake (Goldmont-based) Pentiums and Celerons, plus Core M chips.
Intel still hopes to make good profits from the mobile devices market with its upcoming 5G modems. Interestingly, the change in Intel's strategy might impact Microsoft's rumoured plans for x86 Surface Phones and the Surface 3 successor.
The above strategy changes come in the wake of Intel's recently announced restructuring initiative, which will impact 12,000 positions at Intel globally (11 per cent of employees).