Intel used its IDF16 event last week to introduce the Apollo Lake platform, among other things. Apollo Lake is designed to provide improved CPU and GPU performance, with lower power consumption, in the cost-sensitive entry level market. Intel says that Apollo Lake devices should start to roll out in H2 this year, which means we should see some early examples of the new platform's affordable all-in-ones, miniature PCs, hybrid devices, notebooks and tablet PCs at Computex in a few weeks time. Devices should appear in sales channels at around the back-to-school season.
Apollo Lake wasn't fully revealed at IDF16 but we got a pretty good outline of the key advances coming to this affordability-focussed SoC. Tech site Anandtech published a few slides from Intel's presentation outlining Apollo Lake, which give those interested a good overview of the platform's advances and probable appeal to both systems makers and consumers.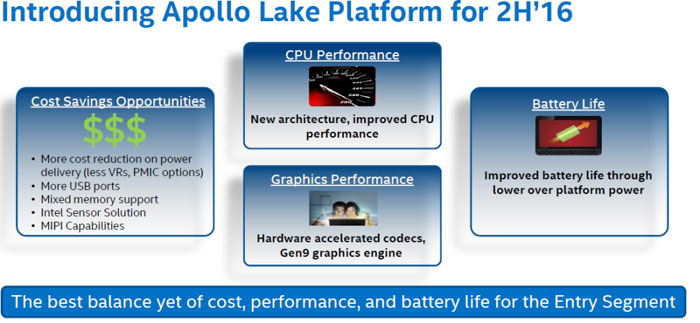 Importantly Intel says that Apollo Lake provides "the best balance yet of cost, performance, and battery life for the entry segment." Breaking down that statement, systems and devices makers can shave $s off the BOM as Apollo Lake provides good battery life with smaller capacity batteries, integrated USB hub, SD card Bridge, an integrated signal processor and more. One slide showed how it was easy to reduce the BOM by about $7 without losing any features at all.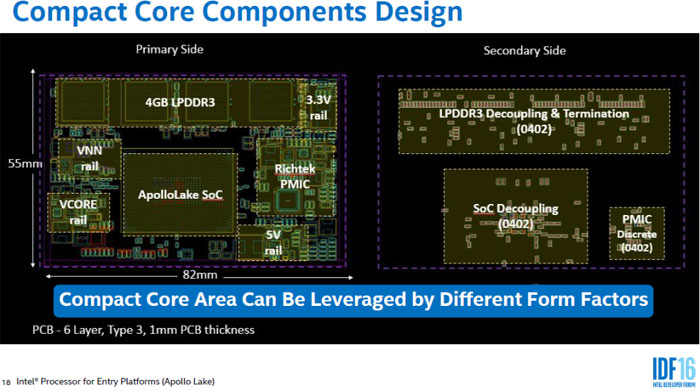 A 14nm Apollo Lake SoC can boast up to four CPU cores based upon the Goldmont microarchitecture. It uses Intel Gen9 graphics architecture (las in Skylake), and can decode HEVC and VP9 codec files in hardware. As mentioned in the intro, systems makers can choose to equip devices with dual channel LPDDR3/4 memory. Furthermore you can enjoy support for SATA drives, PCIe x4 drives and eMMC 5.0 storage and support for USB Type-C.
According to Anandtech, a reference design for an Apollo Lake 2-in-1 includes; "an 11.6-inch full-HD (1920x1080) 10-point multi-touch display, 4GB of LPDDR3-1866 memory, 64GB M.2 SATA3 SSD or 32GB eMMC storage, an M.2 wireless module supporting 802.11ac, an optional M.2 LTE modem, an integrated USB 2 camera, a host of sensors (accelerometer, ambient light, proximity detection, and magnetic switching) as well as a USB Type-C connector supporting USB power delivery and alternate modes". Apollo Lake should also provide an uplift to the common cloudbook specification while maintaining price points.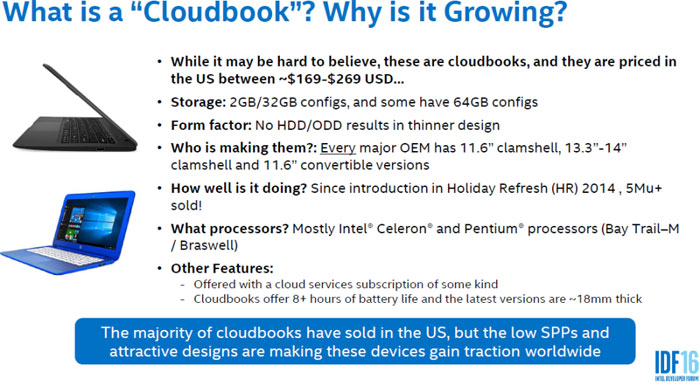 We are still waiting for full official specifications to be published on Intel's website. We'd like to know the new features of the Goldmont microarchitecture, model numbers, clock speeds, GPU EU counts, and more.