Intel's upcoming Core i7 Broadwell-E high-end desktop (HEDT) processors will hit the market in Q2 2016, according to a new leaked slide published by Chinese tech site Benchlife.info (via TechPowerUp). Q2 spans April to June and if you take the chart on face value, Intel Core i7 Broadwell-E chips sporting 6, 8 and 10 cores will become available towards the beginning of that quarterly period.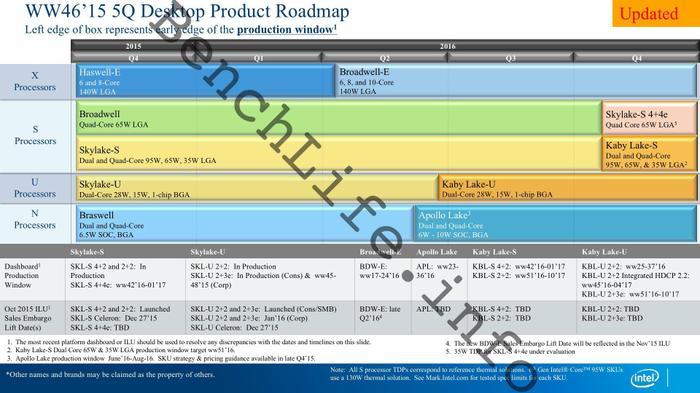 Earlier this week we reported on another Chinese leak, which provided the specifications of Intel's Core i7 Broadwell-E HEDT range of processors. The top of the range Core i7-6950X grabbed our attention as it comes equipped with 10 physical CPU cores and support for 20 threads. This chip also stands out from the pack thanks to its 'eXtreme' overclockability via an unlocked multiplier and voltage tweaking flexibility. I've reproduced the product lineup that we found out about below:
The full lineup of Intel Broadwell-E processors, using socket LGA2011-v3, is said to be as follows:
Intel Core i7-6950X: 10 cores, 20 threads, 25MB L3 cache, 3.0GHz
Intel Core i7-6900K: 8 cores, 16 threads, 20MB L3 cache, 3.3GHz
Intel Core i7-6850K: 6 cores, 12 threads, 15MB L3 cache, 3.6GHz
Intel Core i7-6800K: 6 cores, 12 threads, 15MB L3 cache, 3.4GHz

TPU says that the flagship Intel Core i7-6950X will cost approximately $1000, the mid-tier 8-core processor will cost around $600, with the entry level Broadwell-E chips priced around $400. All the Broadwell-E processors will have a TDP of 140W and be compatible with existing LGA2011v3 motherboards, given a requisite firmware update.
The new roadmap also shows some Kaby Lake schedules. Desktop users will have to wait around a year to see these processors offered for PC building purposes. However the Kaby Lake-U processors for laptops look to be scheduled for the end of summer, probably for the 'back to school' season.