Chinese tech site XFastest (via VR-Zone) claims to have got its hands on the specifications of Intel's upcoming Broadwell-E HEDT (high end desktop) processors. There will be four processors in the lineup, says the site, with the flagship of the range known as the Core i7-6950X with 10 physical CPU cores and support for 20 threads.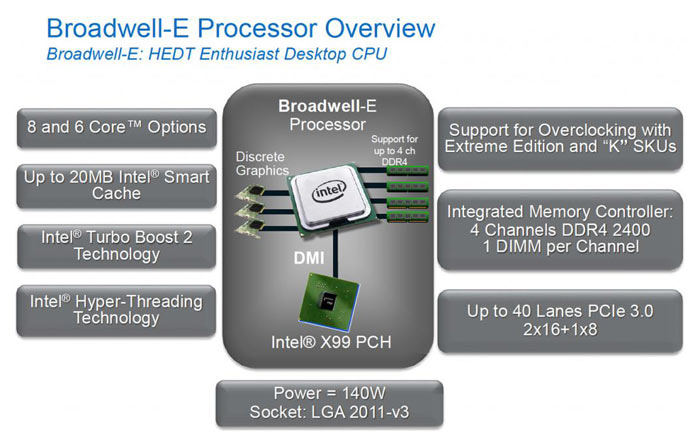 Intel's Core i7-6950X is a 3.0GHz processor but offers users 'eXtreme' overclockability thanks to its unlocked multiplier and voltages. This high-end socket LGA2011-v3, X99 chipset, processor comes with 25MB of L3 cache, according to the source. Users of current systems with X99 Express motherboards should be able to use the upcoming Broadwell-E chips, following a trivial BIOS update procedure.
The full lineup of Intel Broadwell-E processors, using socket LGA2011-v3, is said to be as follows:
Intel Core i7-6950X: 10 cores, 20 threads, 25MB L3 cache, 3.0GHz
Intel Core i7-6900K: 8 cores, 16 threads, 20MB L3 cache, 3.3GHz
Intel Core i7-6850K: 6 cores, 12 threads, 15MB L3 cache, 3.6GHz
Intel Core i7-6800K: 6 cores, 12 threads, 15MB L3 cache, 3.4GHz
You can see that only the flagship carries the 'X' suffix. The lower echelon processors are 'K' suffixed meaning that they have unlocked multipliers but you won't have such flexibility with voltages with these chips.
The 10 and 8 core processors have lower default clock speeds compared to the 6 core Broadwell-E chips revealed by this 'leak'. Upcoming Boradwell-E processors will all offer a Turbo burst clock speed but that isn't known at this time. With such high core/thread counts these chips will be particularly suited to multi-threaded processing tasks but for less well threaded tasks/applications could fall behind in performance to the likes of the Intel Core i7-6700K (Skylake), clocked at 4GHz with 4.2GHz Turbo Boost.
Market pricing and release dates for the Broadwell-E processor range are not known.