Intel has announced a range of new Xeon D processors and Ethernet controllers aimed at modernising and increasing the agility of cloud and data centre services. It says it is working with industry leaders such as Cisco, SK Telecom and Verizon to help lay the foundations for 5G communications.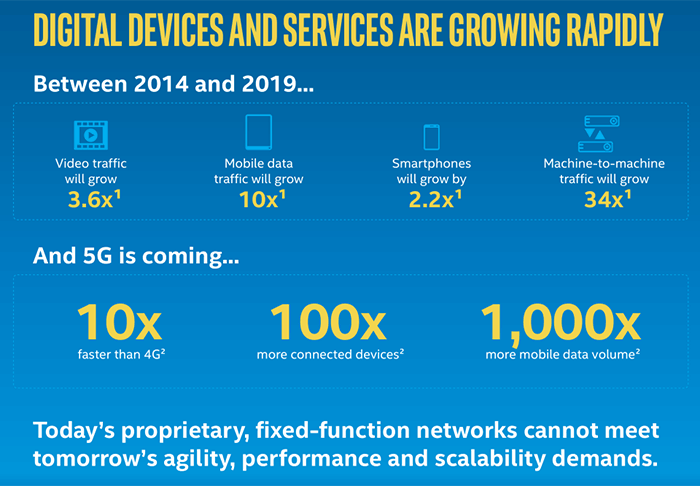 New Xeon D processors
Intel has added 8 new Xeon D processors to its products list. These join the two existing Xeon D SoCs which were launched in March to cover the 'Cloud' market. As you can read in AnandTech's coverage of the launch of these new SKUs, Intel has designed the new Xeon Ds to complement the previous models and cover the Storage and Edge Network markets.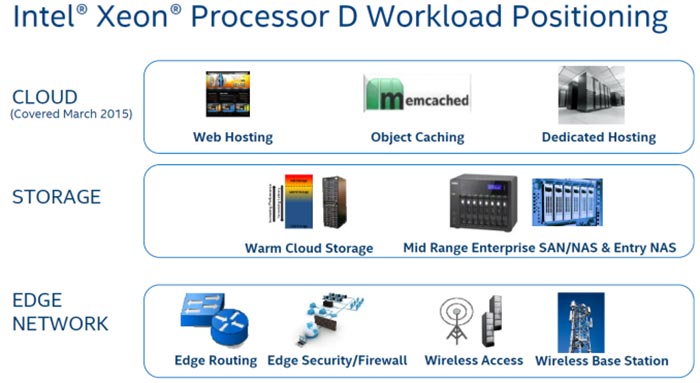 According to the Intel press release the new Xeon D SoCs offer "high-performance, low-power and twice the maximum memory of previous generations," This makes provides improved performance and lower latency and makes them eminently suitable for "various networking, cloud storage, enterprise storage and IoT applications that operate in dense, rugged environments". Intel boasts of more than 50 design wins for these new SoCs.
New Intel Ethernet controllers
There's a pair of new Ethernet Controller families. The X550 family is aimed at low-power, cost-effective 10 Gigabit Ethernet connectivity. Intel envisions it being used in data centre servers and network appliances. The Intel Ethernet Multi-host Controller FM10000 family provides up to 200Gbps of high-bandwidth multi-host connectivity and multiple 100 Gigabit Ethernet ports. It is said to deliver "exceptional packet processing capability and significantly reduces performance bottlenecks in moving network traffic within and between servers".
In addition to the above hardware introductions Intel announced that it had been selected by América Móvil, a leading Latin America mobile network operator, to upgrade its network. Furthermore Intel is now collaborating with Red Hat on the development and deployment of open, industry-standard networking solutions.