Qualcomm continues to reveal its Snapdragon 820 SoC offering piece by piece. In early August it revealed the Snapdragon next-gen camera and Adreno 530 GPU details, then we learned about the new Hexagon 680 DSP and yesterday it published some information about how it can detect and halt mobile malware shenanigans using neural processing via a Zeroth-powered feature called Snapdragon Smart Protect.
As well as all the regular viruses and malware around every day there are new ones that your AV software just doesn't know about yet. Your mobile AV solution might try and sniff out such software, beyond the scope of its signatures - but what if the hardware could augment the software efforts with real-time machine learning-based behavioural analysis? And what if it could do something to stop such malware jiggery pokery being able to do anything on your mobile? That's what Qualcomm claims to have achieved with Snapdragon Smart Protect technology.
Machine learning-based behavioural analysis, hardware-based security, and system-wide optimization is brought to the Snapdragon 820 thanks to Snapdragon Smart Protect. This could be an important additional layer of malware protection, especially on an Android device that the manufacturer has lost the motivation to provide updates for. The diagram below shows a couple of examples of the 'abnormal behaviour' malware might get up to and that it could 'reason' is malware functionality that should be blocked.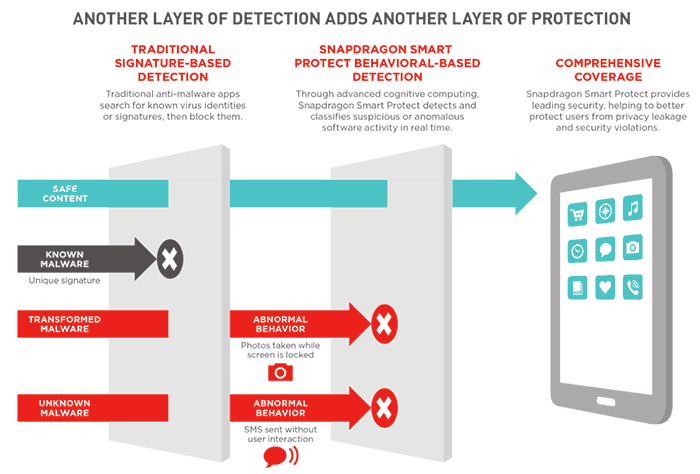 Qualcomm says that its behavioural analysis could help it detect and classify new and transformed malware quickly and efficiently. The 'pre-emptive protection' features can be accessed via an API available for free to OEMs and ISVs. The tech has been designed from the ground up to be low-power yet high performance and doesn't need any kind of 'cloud' access to do its job.
The first Snapdragon 820 equipped devices will arrive, with Snapdragon Smart Protect, in H1 2016. Qualcomm is working with mobile security providers like Avast, AVG and Lookout so the Zoroth-powered hardware feature can complement their mobile apps.