Active-cooling-phobic tech site Fanless Tech has published exclusive slides which appear to reveal the Intel 6th core U-processor lineup, AKA Skylake-U. Like Intel's current U-series processors, these chips are expected to be deployed in tablets, convertibles, ultra-portable laptops, and fanless desktops. The new range covers a full spectrum of the Intel processor range from Core i7 down to Celeron. As a low-power lineup TDPs are kept low with the new processors having TDPs in the range from a minimum of 7.5W up to a maximum of 15W.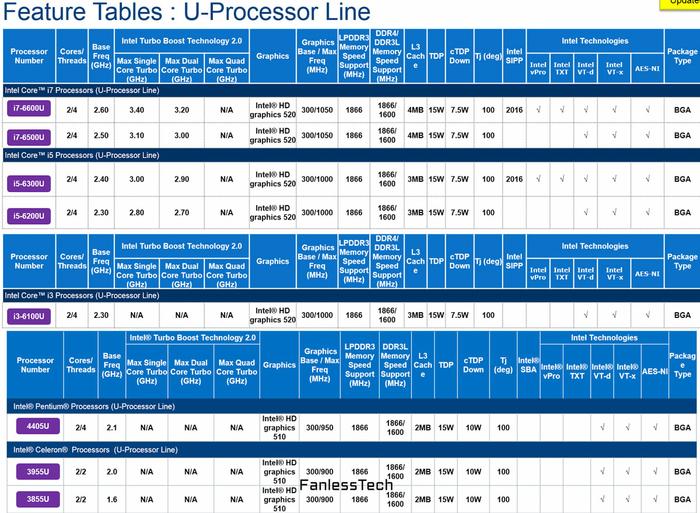 The Skylake-U lineup consists of just one i7, one i5, one i3, one Pentium, and two Celerons plus a vPro version of the i7 and i5 parts. This is quite a reduction in numbers compared to Haswell and Broadwell-U series products - however there could be more chips detailed in a subsequent official launch, perhaps they are on another slide not seen or 'leaked'.
All of the Core chips revealed sport Intel HD graphics 520 but the Pentium and Celeron processors employ the less powerful Intel HD graphics 510. All of the new chips except the Pentium and one of the Celerons use a 'Premium Chipset' with expanded I/O capabilities and PCI Express 3.0 lanes. However the 'Baseline Chipset' looks quite robust for the types of compact low-power devices these U processors will be found in.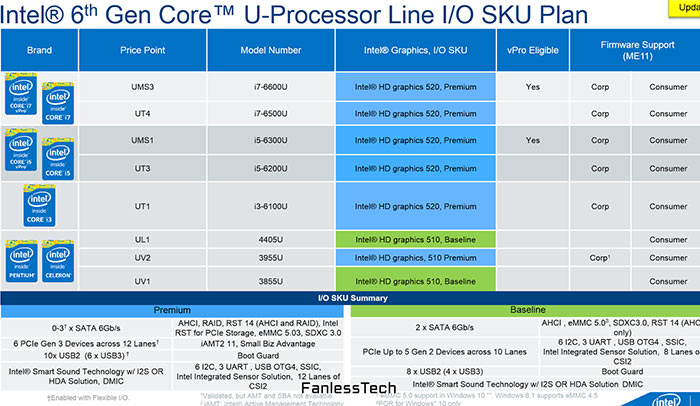 Looking at the top of the range, the Core i7 and i5 processors can be had with vPro and Trusted Execution Technology features. The i7 and i5 Skylake-U processors are also the only ones in the new range that support Turbo Boost technology. As you move down the processor range the amount of L3 cache reduces from 4MB for the i7, 3MB for the i5 and i3, down to 2MB for the Pentium and Celeron chips. Hyperthreading is supported by all the processors revealed by the above slides, except for the Celerons.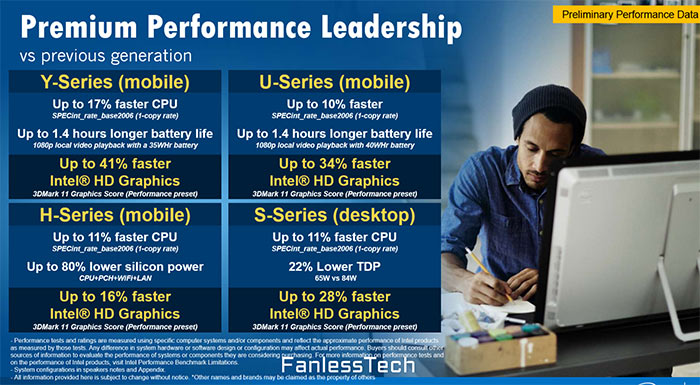 According to a previous set of slides, also from Fanless Tech, we saw that the Skylake U-Series are "up to 10% faster" and offer graphics that are "up to 34% faster" than the previous generation.
U-Series plus Iris graphics
Another new slide from Fanless Tech shows that Intel will be making a 'Consumer/Transactional' U-series processor range with TDPs up to 28W and packing Iris Graphics. These help provide improved graphics to thin and light ultraportables at the pricier end of the market.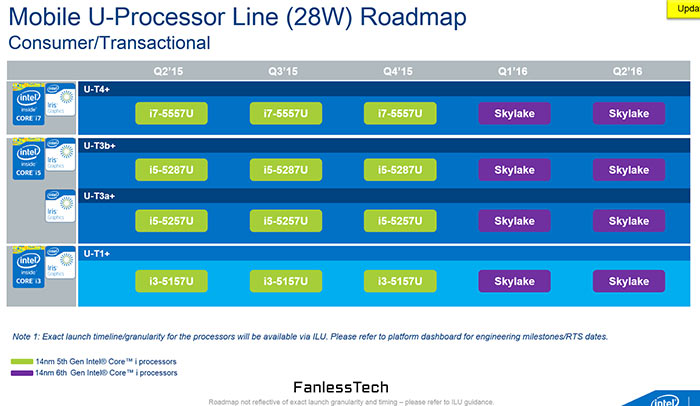 IDF 15 San Francisco starts on Tuesday next week where we will hopefully find out a lot more about the Skylake U-series and more, direct from Chipzilla's mouth.