A Chinese website called TechBang has published what is claimed to be the first full review of the Intel Core i7-6700K Skylake flagship CPU this weekend. The review, which includes a suite of benchmark tests with results compared against a 'Devil's Canyon' Intel Core i7-4790K Haswell CPU, appears to have been taken down from the web now. Luckily several sites already squirreled away the meat from the review sandwich – the benchmark results table – as reproduced below.
TechBang claims it tested the Core i7-6700K installed upon an ECS Claymore motherboard with Z170 chipset. Also installed was 16GB of 2133MHz DDR4 RAM, a 128GB SSD, and an NVIDIA GeForce GTX 970 graphics card. The Intel i7-4790K processor was installed upon an MSI Z97A Gaming 6 motherboard. The reviewers used the same SSD and graphics card hardware in the Haswell system but with half the system RAM installed, 8GB of 1600MHz DDR3, according to Singapore's VR-Zone.
Both CPUs have four cores, eight threads and a base clock of 4.0GHz, but in Turbo mode the Haswell can reach 200MHz higher than the Skylake part. As you can see from the table at the top of this article the Skylake processor offers, at best, a 29 per cent uplift in performance. Multithreaded multimedia tests seemed to respond particularly well to Skylake enhancements.
Overall the average performance advantage of the Skylake chip comes out at a little under seven per cent. We must be cautious with these early figures as they could be fakes and/or improve further with driver enhancements for the chipset, motherboard etc.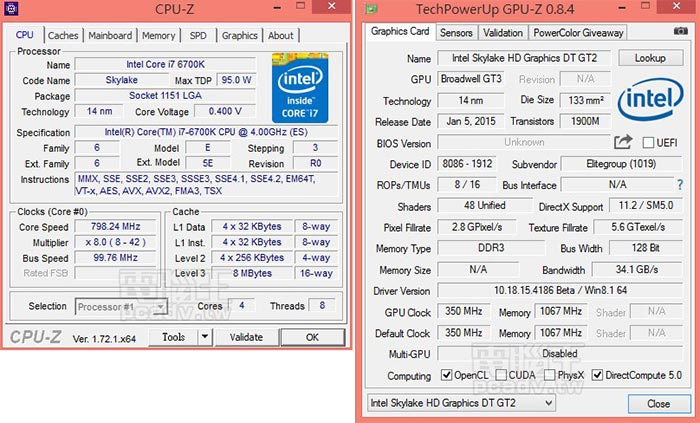 Intel's first batch of next generation Skylake processors are expected to be officially unwrapped at Gamescom early next month. The flagship 14nm Core i7-6700K and Core i5-6600K CPUs are thought to be the first Skylake processors that we will officially see launched at this eminently suitable gaming trade show, brimming with PC gaming enthusiasts. Intel processors carrying the 'K' suffix provide unlocked multipliers so overclockers and system performance tweakers can squeeze the best out of the chips.