A little known Turkish computer tech website has published what could be the first benchmarks featuring an Intel Skylake-S processor. PC-FRM published performance comparison charts which feature the Intel Core i7-6700K head to head against a raft of popular high performance processors from both Intel and AMD. Benchmarks included the likes of PC Mark and games like Battlefield 4.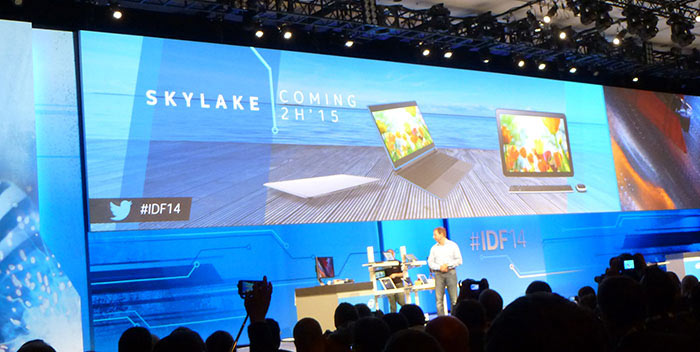 We carried an earlier story on the leaked Skylake-S CPU lineup information. This new source 'confirms' that the Intel Core i7-6700K is a four physical core and eight thread processor with a base/boost frequency of 4.0/4.2GHz and a TDP of 95W. The processor would seem to be the successor to the Intel Core i7-4790K which has the same 4/8 cores/threads, a slightly higher boost frequency of 4.4GHz, yet a lower TDP of 88W. Happily, both these processors plus the i7 5820K (six cores / 12 threads), i5 6600K, AMD FX9590 and AMD FX-8350 are in the Turkish benchmark comparison tables.
As you can see above the benchmarks encompass 3DMark's CPU tests, Cinebench, PCMark and various games played with an Nvidia GeForce GTX780 providing the GPU grunt. Overall, as other sites have commented, the new Intel i7-6700K Skylake proves to be about 15 per cent faster than the Haswell-based i7-4790K chip.
The new 6th generation Socket 1151 processor will be built upon the same 14nm process as Broadwell and support both DDR4 2133MHz and DDR3L 1600MHz memory. It has an unlocked multiplier as demoted by the 'K' suffix. Roadmaps and plans indicate a launch in mid-August this year.
Remember these benchmarks should be regarded as rumours at best, as the source doesn't link to any other credible sources and seems to be unsupported. Since we just saw similar processor specification details and pictures these could be the benchmark results garnered from some Intel engineering sample doing the rounds.