Intel has managed to create 15W TDP Skylake processors that include Iris 6100 graphics. Currently, as noted by Fudzilla, Iris 6100 graphics are only available in Broadwell Intel chips with 28W TDP, for example the Intel Core i7-5557U, which actually offers a configurable TDP as low as 23W. There are three other 28W TDP Broadwell Core processor SKUs featuring Iris 6100 graphics. Before year end Intel is expected to launch four Skylake Iris capable next generation Core i5 and Core i7 15W processors with a further four SKUs arriving in 2016.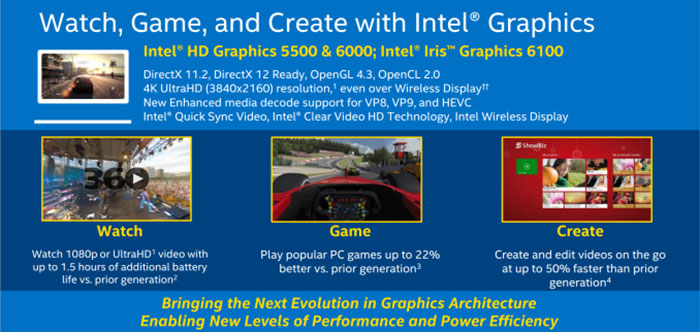 The Skylake 6th generation Core processors represent a 'tock' in the Intel development cycle so will offer architectural changes and improvements over and above the 14nm process shrink brought to market with the Broadwell 'tick'. Both the Intel CPU and GPU designs are expected to be enhanced in performance/efficiency. That the Intel Iris 6100 graphics chip can make it into a processor of 15W TDP is a testament to the improved efficiency of Skylake.
So how powerful is the Iris 6100 graphics processor? In a very rough comparison of just FP GFLOP performance, an Iris Graphics 6100 equipped i7-5557U (48 EUs at 1100 MHz) scored 845 while a standard Nvidia GeForce GTX 750 scored nearly 1050. You can find more comparative Iris Graphics 6100 (game) benchmarks here (scroll to bottom).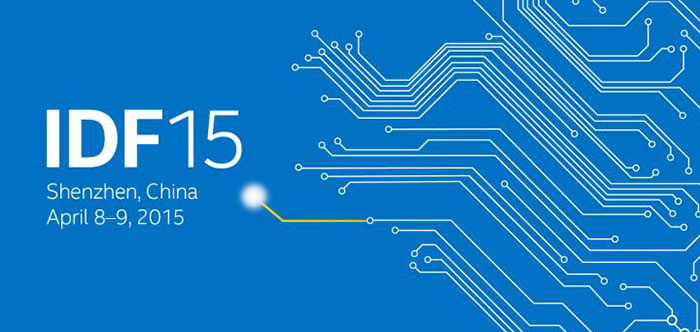 MobileGeeks had a representative at the 2015 Intel Developer Forum (IDF) Shenzhen this week and saw All-in-One PCs, tablets and hybrid 2-in-1 reference designs packing these new Intel processors. Have a look at the video below which focuses upon the 2-in-1 design. The 12.5-inch '4K' device is very sleek and its minimal physical ports seem to consist of just 2 x USB Type C connectors.