Broadwell processors have been showing up in Ultrabooks in recent months. Both the Core iX processor range and the Core M range have enjoyed many design wins; you can see an extensive list here. But what about desktop PC enthusiasts, when will we get our hands on these 5th generation Core processors based upon the 14nm manufacturing process? According to VR-Zone (Chinese) availability is "just around the corner".

Intel is planning to launch the Core i7-5775C and Core i5-5675C Broadwell processors in Q2 2015 'confirms' VR-Zone. These two 65W LGA 1150 chips are compatible with motherboards including Z97 chipset examples, as long as the BIOS is updated to support the new processors. The use of the 'C' suffix is thought to be a new way to indicate that these are unlocked multiplier processors. Why Intel would move from unloc'K'ed to unlo'C'ked nomenclature is not known.
As you can see from the table above, supplied by VR-Zone, the i7-5775C chip runs at 3.3GHz base with 3.7GHz turbo frequency. It has four cores and supports eight threads. The chip has a total 6MB cache and sports Iris Pro Graphics 6200. The i5-5675C chip runs at 3.1GHz base with 3.6GHz turbo frequency. It has four cores and supports four threads – so no hyperthreading support. This chip has a total cache of 4MB and sports Iris Pro Graphics 6200.
Alongside the LGA socket processors detailed in the chart VR-Zone provided the specs of three BGA processors, these will presumably be deployed in smaller/designer PCs not meant to be user upgradeable.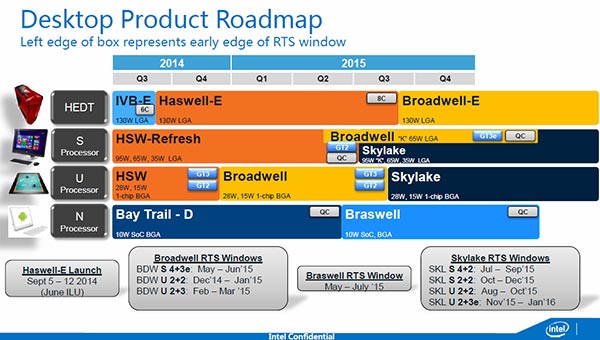 Earlier roadmap slide showing that "Broadwell K" introduction would commence shortly