Intel has just launched a pair of Xeon Processor D-1500 SoCs. It has chosen to launch these 14nm processors to meet its goal of "Extending Intelligence to the Edge," and bring its data centre chip technology to both the 'data centre edge' and 'network edge' – simply to help bridge the gap between traditional data centres and connected devices. Therefore devices Intel expects to see these processors deployed in include hosting and web server equipment and routers, wireless base stations and NAS devices.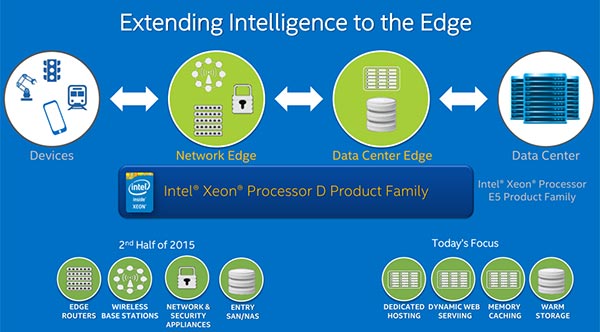 The first ever Intel Xeon SoCs, the D-1520 and D-1540, are now in production. These processors provided up to 3.4X the performance of an Intel Atom C2750 in a dynamic web serving platform test undertaken by Intel.* The new Xeons are said to boast up to 1.7X better performance per watt in the same example task.*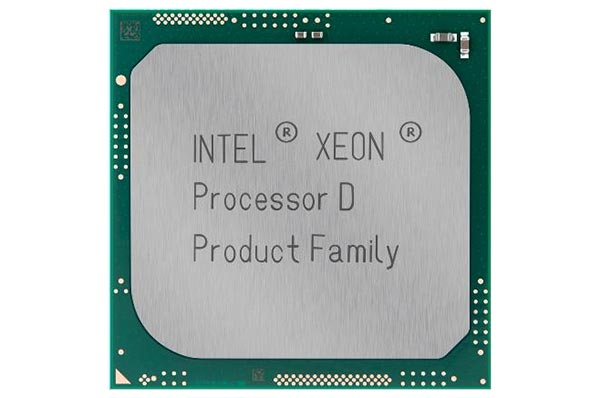 These 64-bit SoCs have the following key configurations:
Intel Xeon D-1520: 4 cores / 8 threads, 2.2GHz, 45W
Intel Xeon D-1540: 8 cores / 16 threads, 2GHz, 45W
Further specs the two new Xeon SoCs have in common include:
Up to 5X network bandwidth thanks to integrated 2 x 10GbE Intel Ethernet
Integrated I/O such as 24x PCIe 3, 8x PCIe 2, 6x SATA3, 4x USB etc
Memory architecture based upon DDR4 DIMMs with up to 12MB L3 cache
Up to 128GB of addressable memory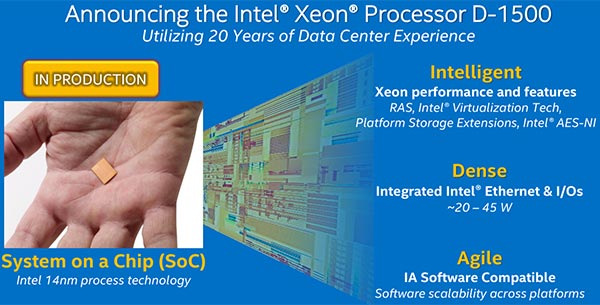 Despite these processors only just entering mass production Intel has secured over 50 design wins for them. The wins are in the vital 'underlying infrastructure' of devices, data and digital services which Intel predicts to grow by 10X by 2020. New products destined to pack Intel Xeon D-1500 SoCs are split pretty evenly between the three main categories of Network & IoT, Microservers and Storage Devices - as illustrated below.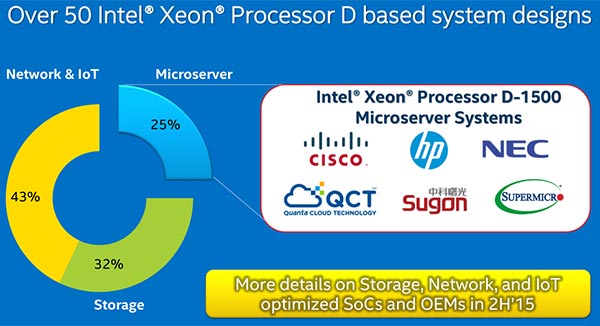 It's interesting to see Intel use its Xeon branding and technology in this SoC market space for network appliances and IoT devices. ARM is also targeting the billions of devices which are expected to make up the IoT in coming years. With so many devices expected to be connected to the internet in the coming years there's probably plenty of room for both corporations to prosper - but of course they have to fight tooth and nail to carve out their respective territories and that battle - with both hardware and software - has definitely started.
*Up to 3.4x better performance on Dynamic Web Serving
Intel® Xeon Processor D-based reference platform with one Pre-Production Xeon Processor D (8C, 1.9GHz, 45W, Turbo Boost Enabled, Hyper-Threading enabled, 64GB memory (4x16GB DDR4-2133 RDIMM ECC), 2x10GBase-T X552,
3x S3700 SATA SSD, Fedora* 20 (3.17.8-200.fc20.x86_64, Nginx* 1.4.4, Php-fpm* 15.4.14, memcached* 1.4.14, Simultaneous users=43844
Supermicro SuperServer* 5018A-TN4 with one Intel Atom Processor C2750 (8C, 2.4GHz,20W), Turbo Boost Enabled, 32GB memory (4x8GB DDR3-1600 SO-DIMM ECC), 1x10GBase-T X520, 2x S3700 SATA SSD, Ubuntu*
14.10(3.16.0-23 generic), Nginx* 1.4.4, Php-fpm* 15.4.14, memcached* 1.4.14, Simultaneous users=12896