Intel was at the GDC this week demonstrating new hardware and software and talking about partnerships with gaming companies. The array of announcements which covered processors, software utilities, software initiatives and games were said to show us that it is "committed to gaming".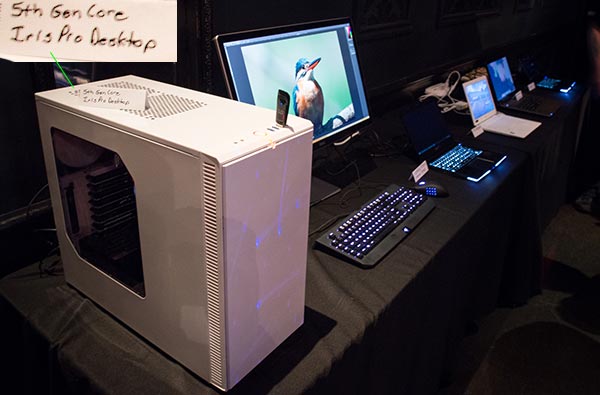 Intel spared no expense on signage
Desktop PC enthusiasts will probably be most interested in the announcement that Intel will start to ship the first 5th Generation Core LGA-socketed CPU with Intel Iris Pro graphics this summer. This 14nm chip was on demo at the Intel booth, as shown above. The upcoming unlocked 65W processor will "bring new levels of performance and power efficiency to Mini PCs and desktop All-In-Ones," said Intel. In Intel's own 3DMark 06 testing, machines utilising the new processor (including a new NUC) showed 100-fold 3D performance hikes compared to Intel's 2006 integrated graphics. Yes, that's not the most useful benchmark comparison.
Concerning software development, Intel is already helping to "define and support," the latest graphics APIs including DirectX 12 and Vulkan. In the mobile space Intel helped Android developers with x86 optimisation in games such as Assassins Creed: Pirates, Real Racing 3, Need for Speed Most Wanted and Driver Speedboat Paradise. Games development and publishing companies such as Codemasters, Ubisoft, and Funcom showed off applications taking advantage of Intel's Iris Pro graphics.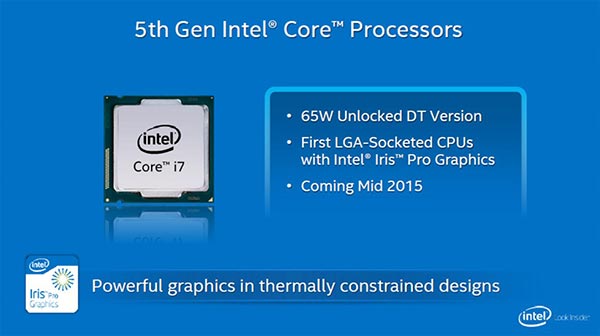 In games community announcements Intel said that it is working alongside the International Game Developers Association (IGDA) to double the number of women working in gaming. It also sponsored 49 game development students so they could attend the GDC. Intel announced a new game developer portal called 'Achievement Unlocked', which will be a forum for Intel Graphics, Intel Core processor, and Intel Atom processor development - offering technical assistance, mentoring and other opportunities.
Other notable announcements concerned a new indie psychological horror game called 'Nevermind', which will be enjoyed with biofeedback from Intel RealSense technology. Also the Raptr PC gaming utility will now be available for Intel Graphics; offering one-button customised optimisations, gameplay recording boosted by Intel QuickSync and graphics driver update monitoring.