Qualcomm has unveiled the first official details about its Snapdragon 820 SoC at the MWC 2015. The latest flagship chip from the company debuts its next-gen top-end custom 64-bit CPU core, dubbed Kyro. The CPU cores will be built using the non–planar FinFET architecture, reports ArsTechnica.
The "leading edge" FinFET manufacturing process refers to either 16mm TSMC or 14mm Samsung/Global Foundries production, though Qualcomm did not specify which tech will be used. This manufacturing technique minimises the size of the chips by effectively stacking them in 3D configurations.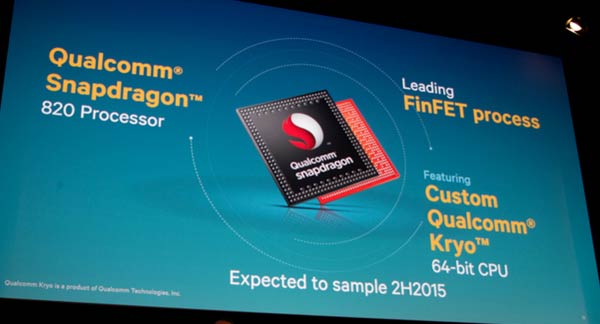 Kyro is a 64-bit ARM processor compatible with the ARMv8 instruction set. Although Qualcomm did not disclose any depth of detail about the Snapdragon 820 SoC or Kyro cores, it is thought that this new micro-architecture will facilitate a wider range of usage scenarios than Krait offered. This means that the 820 chip could go into cars, robots, VR headsets and other diverse products, with Qualcomm also said to be applying the Kyro architecture to a server chip it is currently developing.
Interestingly the Snapdragon 820 debuts the chipmaker's new platform called Zeroth, a cognitive computing platform that can anticipate users needs and actions, thanks to brain-like learning capabilities. This means that devices built with the Snapdragon 820 will be able to learn about/recognise their users over time, and Qualcomm demonstrated on stage one real-life application of the platform by showing a camera recognising and identifying the subjects/objects in a photo. This feature could also be used in the security functions of the smartphone/device to augment Qualcomm's Snapdragon Sense ID 3D Fingerprint technology, for example.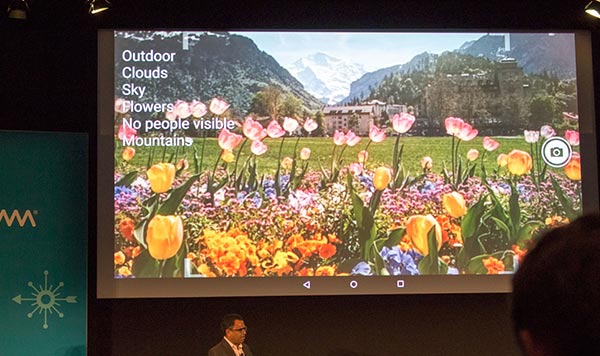 Qualcomm will start sampling the Snapdragon 820 in the second half of 2015, with expectations that the chip will make it into shipping devices sometime towards the end of 2015 or the beginning of 2016.