The Skylake Update
Intel's upcoming product range based on the Skylake microarchitecture is set to be released in the second half of 2015 according to the company. Intel CEO, Brian Krzanich, confirmed the news at the Q4 earnings report conference call held toward the end of last week.
"We are not going to slow Skylake down. We said it will be a second half of this year. I don't want to slow it down because it brings a lot of innovation, a lot of new capability to this market." stated Brian Krzanich.
The news is significant because it reveals Intel managed to overcome the initial 14nm difficulties experienced with Broadwell to keep Skylake on-schedule. With the 14nm node now stabilised for Intel the company has since released two product ranges based on Broadwell: Broadwell-U and Core M.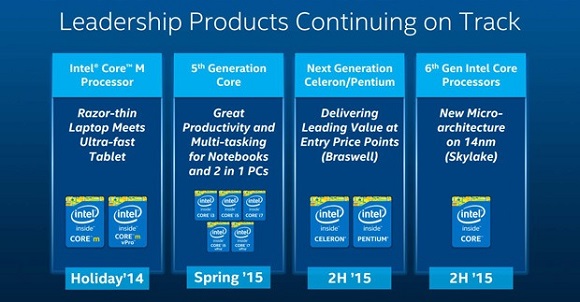 Skylake parts will arrive in desktop and mobile form factors in time for the back-to-school season in the second half of 2015. There are still no specifics on the models that will be released but it is largely expected that Intel's product portfolio will contain a blend of Broadwell- and Skylake-based parts as we near the end of 2015.
Intel's CEO stressed the similarities of Broadwell and Skylake at its conference call, further reinforcing the fact we are likely to see both architectures co-exist in the marketplace. "They [Broadwell and Skylake] are on the same technology, the same piece of silicon, it's the same factory. All we do is change the piece of glass in the scanner to get a different product."
10nm Teaser
The next step after Intel's 14nm node will be the tick down to 10nm. In microarchitecture terms 10nm will be codenamed 'Cannonlake' and is effectively a 10nm die-shrink of Skylake. In response to an investor question about the 10nm process node, Intel's CEO revealed the company is making further announcements at an investor meeting in November 2015.