Intel has announced a range of 14 new Core processors plus new Pentiums and Celerons based upon its 14nm Broadwell architecture. The firm asserts that it is on track, with its 5th generation Intel Core Processor family to provide "new and enhanced capabilities that will change how you interact with your PC". It will do so with improved general and graphical performance, "amazing battery life" and new PC form factors. In addition we are to be offered more natural and immersive experiences thanks to features such as; Intel RealSense 3D cameras, Dragon Assistant, no passwords, Intel WiDi and Intel Wireless Gigabit.
Generational improvements
Intel gave us an example of how much better a 5th generation Core Processor performs compared to its equivalent model from the Haswell lineup. It did this by comparing the Intel Core i7-5600U with Intel HD Graphics 5500 against the Intel Core i7-4600U with Intel HD graphics 4400.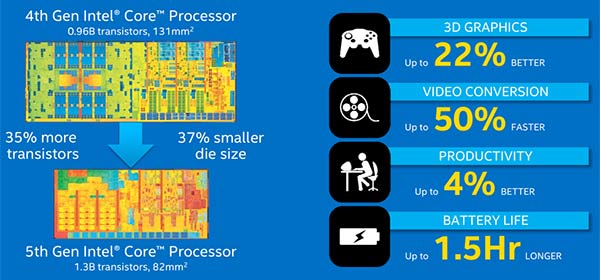 Looking at the chart above, you can see that the die shrink has enabled Intel to cram in over a third more transistors into a chip which is over a third smaller. The claimed improvements are quite large, especially with 3D graphics and video conversion performance. However general productivity improvements are underwhelming. For your reference the results were gained from the following tests: 3D graphics - 3DMark IceStorm, Video Conversion: Cyberlink MediaEspresso HD video conversion, Productivity - Sysymark 2014, Battery life - 40Whr battery watching HD video from local storage.
New Intel graphics
The above chart has already given you a clue that Intel has upped the graphics performance quite significantly in this generation. Gains of 22 per cent in synthetic gaming benchmarks and in using the graphics processor for a 50 per cent video conversion boost are stand outs from the improvements outlined in the generational processor comparison. If you cast your eyes down you can see the basis for this graphical leap - about 2/3 of the dual-core processor die, shown in an example slide, is now devoted to graphical processing.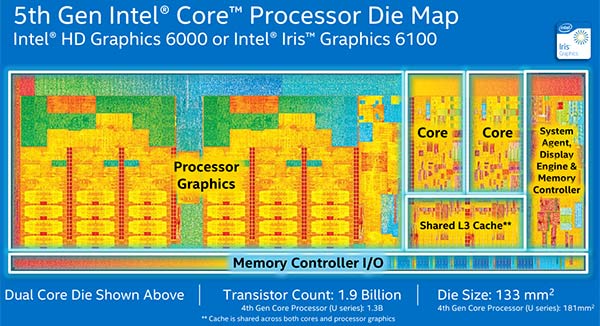 As mentioned in the intro, Intel is pushing several user experiences such as more natural interactions, RealSense and Voice Assistance to try and sell the new chips. It thinks that there is great potential for systems makers to enjoy lots of sales on the back of Broadwell and the new form factors it can make possible.
According to its own research Intel says that over 600 million PCs are "ripe for refresh," -being 4+ years old. Broadwell systems with their improved processing and battery life should mark a big improvement for owners of these 2010 or earlier systems. Comparing systems with a first gen i5 Intel claimed the i5-5300U system would benefit from 2.5x better productivity, 12x better graphics and a battery that lasts twice as long on average.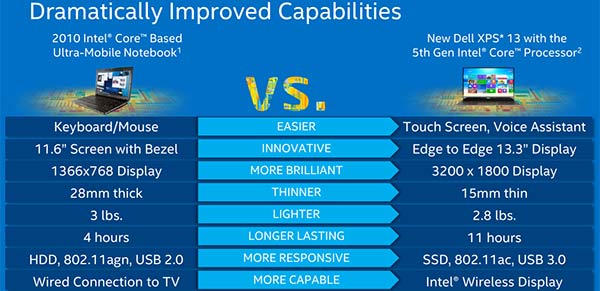 Below is the list of SKUs to be released with features and prices charted. HEXUS will, of course, be reviewing our pick of the products based upon these new processors as soon as is possible.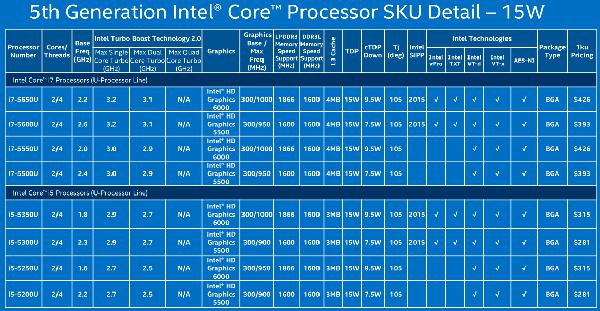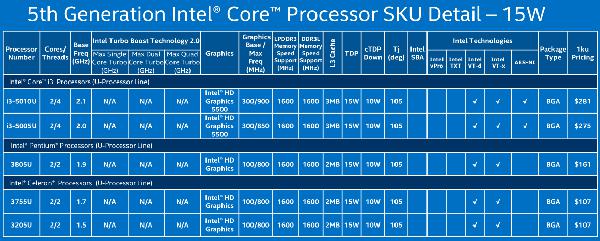 click to zoom in the above charts