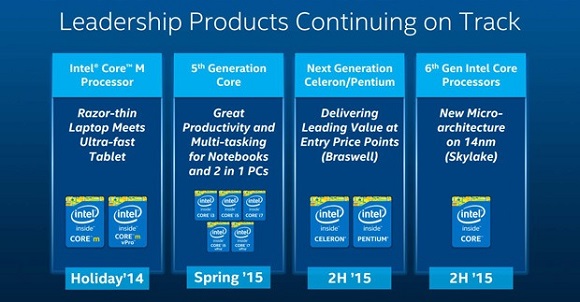 Intel revealed an array of important information last week at its annual investor meeting. Topics that were presented to analysts, investors and other attendees included the progress being made on the 14nm process node, Intel's market strategy going forward as far as 2016 and more importantly for techies; details about upcoming 'Broadwell' and 'Skylake' processors.
Broadwell has already arrived in its mobile form, the 'Core M' processor is shipping right now in a small number of hybrid power-efficient devices. From 'spring' of next year, seemingly Q2, the Core M will be joined by 5th-gen Core series CPUs for notebooks and 2-in-1 PCs. There was, however, no mention of Broadwell for desktop users; a deliberate omission?
Next on Intel's agenda is the cost-effective 'Braswell' design which spans the entry-level Celeron and Pentium ranges. Braswell parts are set to arrive in the second half of 2015 and will be deployed in a variety of low-cost devices such as Chromebooks, budget Windows laptops and tablets. Braswell is intended to phase out Intel's current Bay Trail-M offerings when it is economically feasible to do so.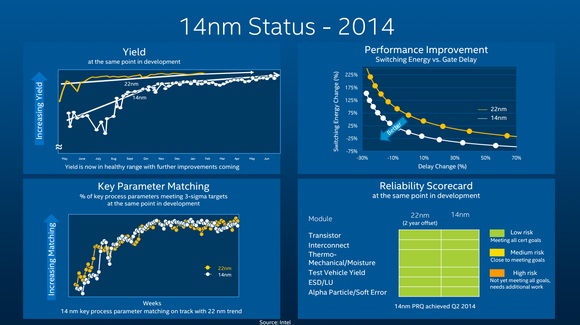 Skylake is still on-course for a late-2015 launch, according to Intel, but just like Broadwell there have been no specifics given on the desktop variants. With Skylake being branded the 6th-gen Core series of CPUs from Intel, one would imagine that a full range of Core 5000 series parts would precede it.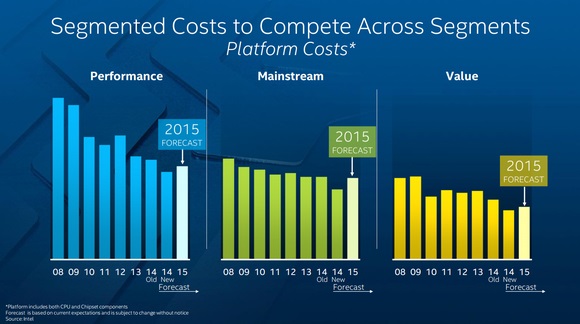 Intel's Bill Holt demonstrated evidence of Moore's law in action, showing that the 14nm node has yields notably lower than the 22nm node did at the same stage in its development. In early 2015 Intel plans to ramp-up its 14nm production with the cost curve eventually bettering Ivy Bridge and Haswell towards the end of 2015.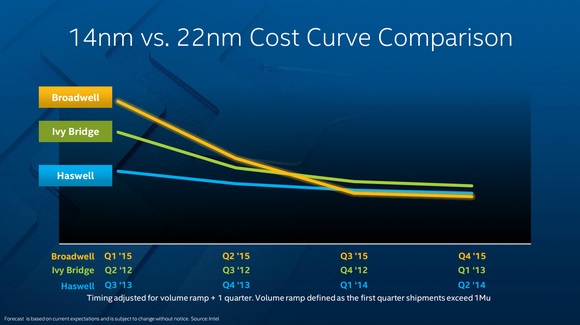 Intel noted that its costs for all market segments; mainstream, performance and value, are elevated for 2015. The culprit for those increased costs is, unsurprisingly, the troublesome 14nm process which Intel has now tamed, albeit with a slight dent to its margins since analysts predict Intel cannot afford to raise its prices. Intel's ability to get to grips with the 14nm process properly in 2015 should allow for a more effective tape-out of Skylake, Intel's 14nm microarchitecture redesign. Matched with a matured 14nm process Skylake should bring costs back down again in 2016.