Intel will launch a further four Core M processors shortly. The new processors will offer the same low power consumption of their predecessors but with "better CPU and/or graphics performance than the first three members of the family," according to CPU World. While the chips are on Intel's roadmap for a Q1 2015 launch it is noted that they have already appeared in the Intel ARK product database with a 'Launched' status.
All the new Core M processors have two cores and support up to four threads. They all have Intel HD 5300 graphics and a TDP of 4.5W. Despite the stated 4.W TDP these parts can be run at the lower 3.5W or higher 6W TDP as preferred by the systems designer. The chips support LPDDR3-1600 and DDR3L-1600 memory and are sold in BGA packaging.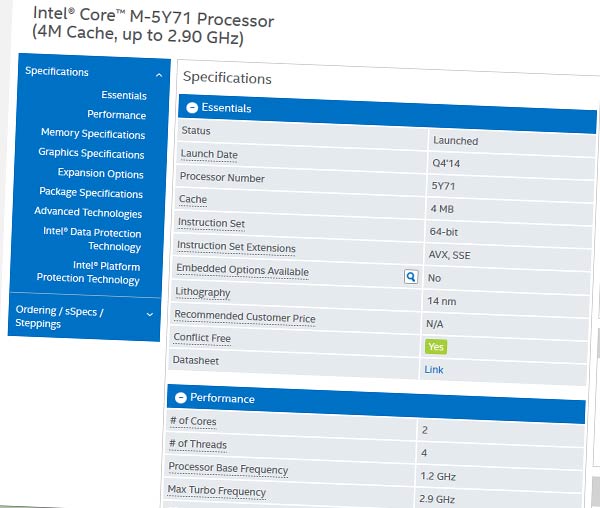 Starting with the top of the range chip, the Core M 5Y71, this part offers core processor frequencies of 1.2/2.9GHz. It has a 4MB L3 cache to help speed processing along. The graphics component is an Intel HD 5300 GPU which offers the standard and boost frequencies of 300MHz and 900MHz respectively in this example.
For details of the rest of the new Core M range please consult the chart below, details tabulated thanks to CPU World.
Model

Cores /
Threads

Frequency /
Turbo

L3
cache

Graphics

GPU
Frequency

TDP

Core M 5Y71

2 / 4

1.2 / 2.9 GHz

4 MB

HD 5300

300 / 900 MHz

4.5 Watt

Core M 5Y51

2 / 4

1.1 / 2.6 GHz

4 MB

HD 5300

300 / 900 MHz

4.5 Watt

Core M 5Y31

2 / 4

900 MHz / 2.4 GHz

4 MB

HD 5300

300 / 850 MHz

4.5 Watt

Core M 5Y10c

2 / 4

800 MHz / 2 GHz

4 MB

HD 5300

300 / 800 MHz

4.5 Watt
HEXUS commented upon and offered a brief analysis of the first Intel Core M processors in early September. We had a look at the top of the range (at the time) Core M 5Y70 processor and official Intel benchmarks in a reference design tablet called Llama Mountain. These first 4.5W parts appeared to perform as well as the best 10W-15W Haswell parts and could be deployed in super-slim fanless designs.
With the above released Core M parts appearing early, hopefully Intel will be able to squeeze out some desktop Broadwell processors for PC enthusiasts sooner rather than later.