Broadwell on track for 2015 client release
Kirk Skaugen, general manager of the Intel PC client group, confirmed that the 14nm Broadwell microarchitecture is now in full production and due to appear in mobile and desktop Core i3, Core i5 and Core i7 chips in early 2015. The announcement follows Broadwell's recent introduction on the Core M mobile processor designed for fanless tablets and 2-in-1 computers.
Due to be known as the 5th generation Core architecture, Broadwell brings minor CPU-side improvements along with enhanced integrated HD graphics and much-improved power efficiency. Though launching almost two years after Haswell, Broadwell's time as the premier architecture is to be short-lived. And if reports are to be believed, value-based Pentium and Celeron processors will miss out on Broadwell altogether.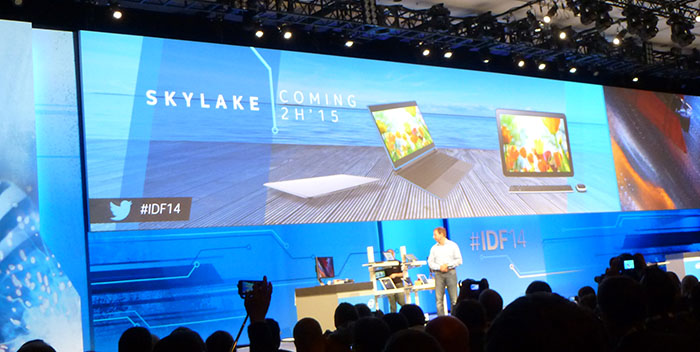 Intel is therefore fast-tracking the next-generation architecture, Skylake, for the full gamut of desktop and mobile CPUs. Based on the same 14nm process as Broadwell but packing a fundamentally new core and graphics - details are sketchy at best right now - Skylake will be in production in early 2015 and in products by the end of next year. Skaugen showed a laptop equipped with a Skylake processor running 3D Mark.
Two architectures next year
Having two microarchitectures launching for client computing in one year makes us wonder if there's much reason to opt for delayed Broadwell-based processors when they become available in six months' time. Perhaps Broadwell's one redeeming factor is compliance with the current LGA 1150 socket used on Haswell chips/boards. Skylake, meanwhile, will use a new socket known as LGA 1151.
Keeping the industry ticking along, Intel's laptop partners, we must remember, are understandably eager to harness the first 14nm Broadwell silicon for mainstream devices, which they expected to be available very early this year.
Fortunately for Intel, the current-generation Haswell architecture has limited competition from AMD in the client and enterprise space. Now extended to Core i5 Y-series processors at the energy-efficient segment of the market to octo-core gaming chips and 18-core server processors at the high-end, Haswell has provided excellent scaling from 5W through to 150W.
Intel has been focussing on increasing energy efficiency from one architecture to the next, underscored by the significant improvement when comparing low-power Haswell Core i5 and Broadwell Core M chips. What remains to be seen is whether Skylake can give performance the same shot in the arm.