The Intel microarchitecture powering everything from premium tablets through to server processors is underpinned by technology grouped under the Haswell name, including the fourth-generation Core and Xeon E3/E5 processors. The successor to Haswell, codenamed Broadwell, originally mooted for a late-2013 release, has been slipping from release schedules as Intel grapples with the challenges of moving to a smaller, 14nm process whilst also concurrently redesigning large swathes of the core for even greater energy efficiency.
Broadwell-based chips - or, more accurately, system-on-chips (SoCs) - are available sooner than you may think, today in fact, as Intel formally announces the energy-sipping Core M processors primed for high-end tablets, 2-in-1 convertibles and ultra-thin laptops.
Power Efficiency At Its Core M
Core M is all about reducing power in every scenario. The three chips launching today are armed with a 4.5W TDP, reduced from the 11.5W TDP available on Haswell Y processors of the same ilk. Both idle and load power is reduced substantially when compared to the present Haswell Y chips by Intel optimising 14nm transistors for low-voltage performance, driving power down through transistor and interconnect design, improving the leakage characteristics, and overhauling the integrated voltage controller.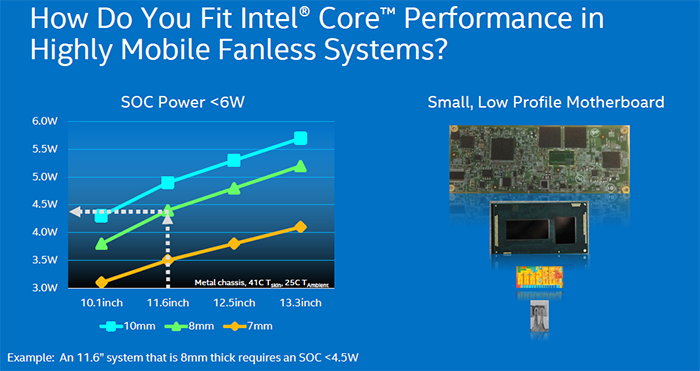 Not only that, the smaller manufacturing process - 14nm vs. 22nm - and improved packaging combine to reduce the one-chip board design size by 25 per cent. In short, Intel has focussed and tuned Core M to run as energy efficiently as possible while also enabling the chip to fit into the smallest of systems. Coming back to point, why is this 4.5W TDP important? Because it paves the way for the Core M chips to be used in fanless tablets, convertibles and notebooks. Want an 11.6in fanless notebook that's less than a cm thick? Broadwell Y-powered Core M has you covered.
And 4.5W is the maximum TDP. Much like the Haswell version, Core M's power can be clamped at lower levels to achieve a particular TDP and slot into even-smaller form factors - it is up to partners to decide how best to implement them.
Performance
A raft of minor improvements to the CPU architecture - larger caches and enhanced buffers, in the main - enables a five per cent instructions-per-clock-cycle improvement over Haswell processors. Intel, clearly, is sacrificing potential performance gains from a smaller manufacturing process for greater energy efficiency. The simple takeaway is that a Core M chip running at the same CPU frequency as Haswell (assuming the same cores and threads) is likely to be marginally faster.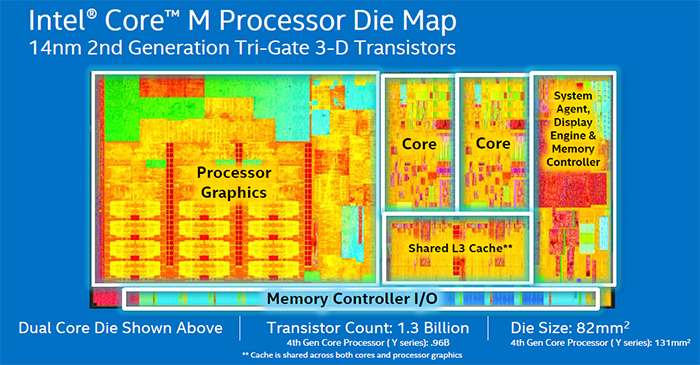 Intel, however, does increase the graphics capability of Core M by overhauling the architecture and devoting a larger proportion of the die to it. Referred to as HD 5300 Graphics, Intel is being very coy in divulging exact details, other than to say it is faster than the present generation. Opportunistically boosting to the same 850MHz speed as the HD 4200 available on the Haswell Y processors, the chip giant has previously said Core M graphics offer 20 per cent more compute units and 50 per cent higher shading ability.
More will be known at the Intel Developer Forum next week, but it is reasonable to assume the Broadwell Y architecture packs in 24 compute units and uplifts overall performance by 25-30 per cent. Features-wise, the HD 5300 Graphics continue to support DX 11.2, OpenGL 4.2, 4K resolutions, Quick Sync Video, and Intel Wireless Display.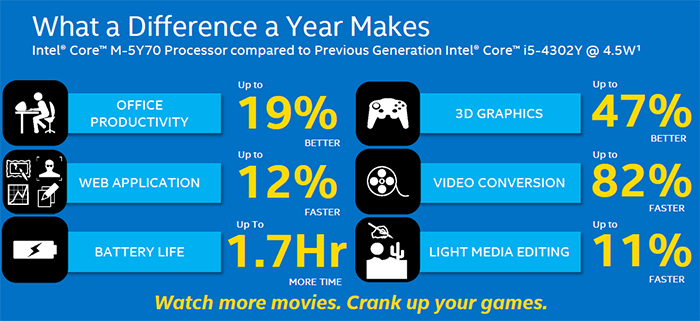 Looking at an apples-to-apples comparison against the equivalent Haswell part, locked at the same 4.5W TDP, Core M is, as expected, a touch better on the CPU and fundamentally faster for the GPU. You may wonder why, if there has been so much focus on energy efficiency, the battery life improvement is merely 1.7 hours.
The reason for this is that the majority of a tablet/notebook's power is drained by the display rather than the SoC, and there is only so much power-efficiency innovation left in the silicon, though Intel has set about improving audio power consumption by integrating a digital signal processor into the die itself. Known as Smart Sound, Intel claims significant efficiency benefits, though, due to the initial complexity of integration, not all device partners will use the technology from the get-go.
The Nuts And Bolts Of Core M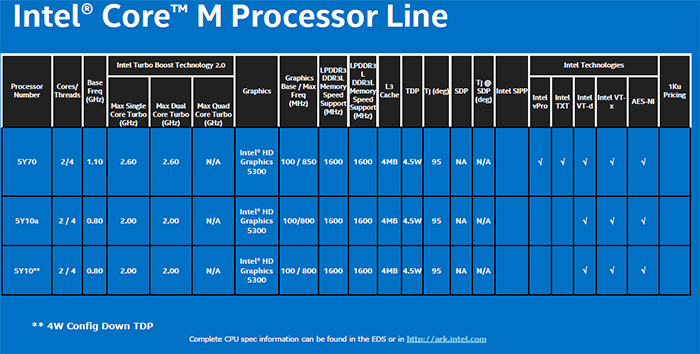 The trio of Core M processors all use a dual-core, quad-threaded CPU architecture. The base processor frequency is becoming more irrelevant with every passing generation, with focus on the Turbo Boost frequency more important, so Core M can scale up to 2.6GHz on the best-in-class 5Y70 chip. The 4.5W TDP is the standout figure, of course.
Broadwell Y vs. Haswell Y

Cores

Threads

CPU Base Clock

CPU Turbo Clock

Onboard Cache

GPU Brand

GPU Max Clock

SDP

TDP

Tray Price

Core M 5Y70

2

4

1.1 GHz

2.6 GHz

4 MB

HD 5300

850 MHz

N/A

4.5 W

Unknown

Core i5-4210Y

2

4

1.5 GHz

1.9 GHz

3 MB

HD 4200

850 MHz

6.0 W

11.5 W

$281
Here's how the Core M 5Y70 compares against the Haswell-powered Core i5-4210Y. The new Broadwell Y can run faster on the CPU and matches the Haswell's GPU frequency, meaning that overall performance, even with the lower TDP taken into account, should be better, and certainly good enough for everyday tasks. The only caveat is, that with TDP taken into account, running all four threads on the CPU reducing frequency to 1.1GHz; an expected trade-off given the power envelopes Intel wants to work with.
What we don't know is how much Intel is charging partners for these Core M processors - they cannot be purchased by end users. It is likely that pricing consistency will be maintained from one generation to the next. Looking at the wider landscape, Core M now complements the cheaper Bay Trail processors used in entry-level tablets and convertibles.
Today at IFA, Intel and its partners are announcing devices using these Core M processors. We wait with bated breath to see if they can match the promise shown by the processors.
As an aside, Intel's focus on the mobile market, particularly with Core M, means that the Broadwell architecture will only come to the Core family with the U-series chips in early 2015. We don't expect to see the Core i7-5770K (Broadwell) desktop chip until at least February of next year, going by best estimates, so present-generation Haswell is likely to have a near-two-year shelf life as the premium solution for enthusiasts.