Multiple leaks of Intel Haswell-E prices and specifications have appeared online. The new range of chips (and supporting motherboards and memory) is expected to be launched on Friday 29th but some official looking launch slides (including pricing) have already been revealed on the VideoCardz site. Guru3D also got some screen-grabs from a Polish e-tailer listing of the top end Intel Core i7-5960X chip.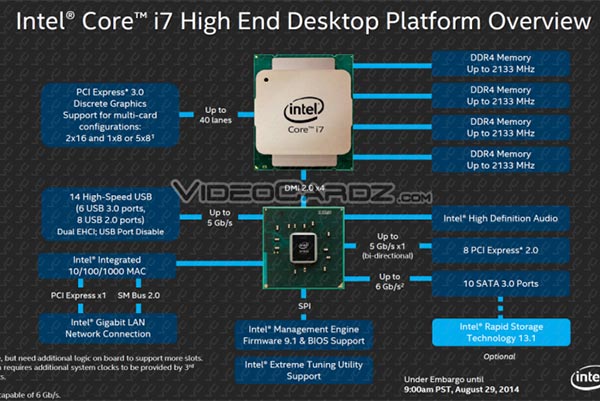 VideoCardz reveals that Haswell-E pricing will be as follows:
Intel i7 / X99 Haswell-E pricing:
Intel Core i7 5960X 8C/16HT – 40-lane PCI-Express support (x16 + x16 + x8) — $999
Intel Core i7 5930K 6C/12HT – 40-lane PCI-Express support (x16 + x16 + x8) — $583
Intel Core i7 5820K 6C/12HT — 28-lane PCI-Express support (x16 + x8 + x4) —– $389
As you can see from the above, at the 'cheap' end of the scale ($389) you can buy the six-core i7-5820K for around $50 over the price of a Core i7-4790K. However the motherboard and RAM prices will pump up your build costs significantly. Those seeking to create a CrossFire or SLI graphics PC could benefit from the Intel Core i7 5930K or above with the dual x16 PCI-e lanes. This 40-lane PCI-Express 3.0 supporting chip will set you back $583, according to the leaked figures. At the top end you can see Intel's octa-core Core i7-5960X at a dollar under $1K. All three of these chips have unlocked multipliers.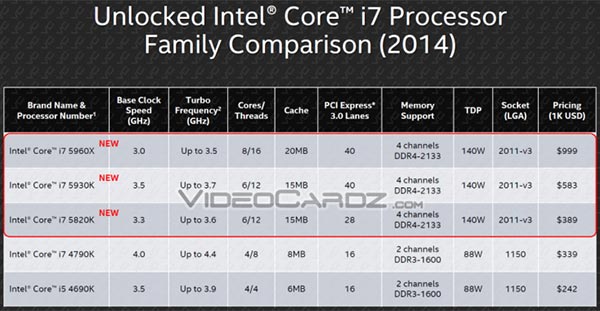 Some slides reveal that Intel claims "new levels of breakaway performance," for the likes of the top end Core i7-5960X chip which trumps the Core-i7-4960X by up to 20 per cent in 4K video editing, up to 32 per cent faster 3D rendering and up to 14 per cent faster game physics and AI performance.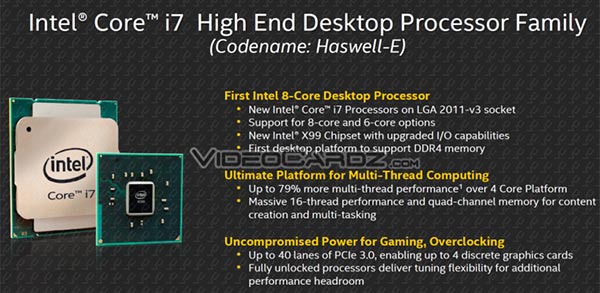 In another Haswell-E leak, Guru3D found a Polish e-tailer listing offering up the top of the range Intel Core i7-5960X. All the specs tally with the VideoCardz leaked slides so it acts as some confirmation of these slides. We also see the same packaging shot. The Intel Core i7-5960X is priced at €954 on the 'Kombo' internet shop.