Intel has released a slew of information detailing its upcoming Broadwell microarchitecture and the manufacturing process behind these 14nm chips. The chip making giant asserts that together these developments will "provide high-performance and low-power capabilities to serve a broad array of computing needs and products from the infrastructure of cloud computing and the Internet of Things to personal and mobile computing".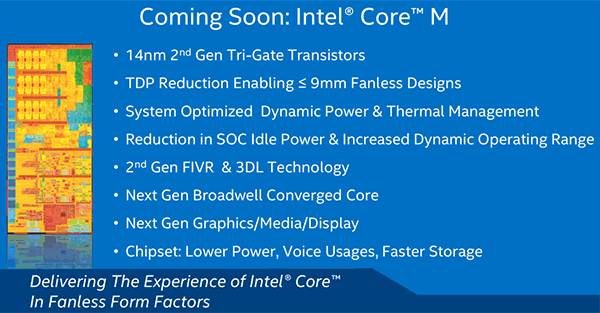 Intel Core M
The first Broadwell chip to reach the market will be the Intel Core M. You can see the slide detailing this particular processor's qualities above. Intel said that from the introduction of the original Intel Core processor in 2010 to the new Intel Core M "soon" in 2014, the common-or-garden notebook will have been reduced from 26mm thick to 7.2mm thick, TDP will have been reduced by a quarter, graphics improved seven fold and general processing doubled in speed.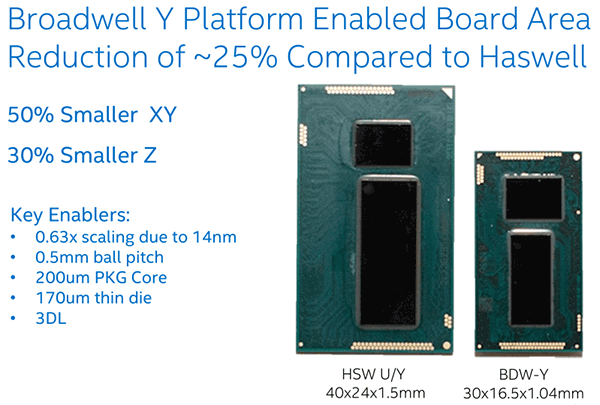 Comparing the Broadwell chip to more recent designs (as illustrated above) Intel said that Broadwell boasts a board area reduction of around 25 per cent compared to Haswell. Turbo boost and power reduction technologies have been enhanced to get the most out of these new chips. In addition the new Broadwell chips will enable fanless designs that are less than 9mm thick, better performance than Haswell-Y but with a greater than 2x reduction in TDP and a 60 per cent lower idle power.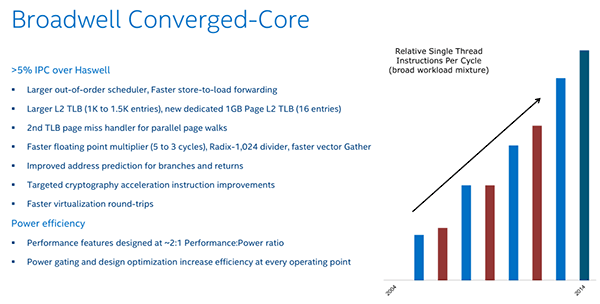 14nm technology
Intel's new 14nm process is now being used for volume production. The process's trigate fins have been made taller, thinner and closer together resulting in faster speeds, less power consumption and fewer fins needed per transistor. Less material used should also help reduce cost per transistor. Intel says that the new 14nm technology will be used for a very wide range of processors from high performance parts to "low-power products including servers, personal computing devices and Internet of Things".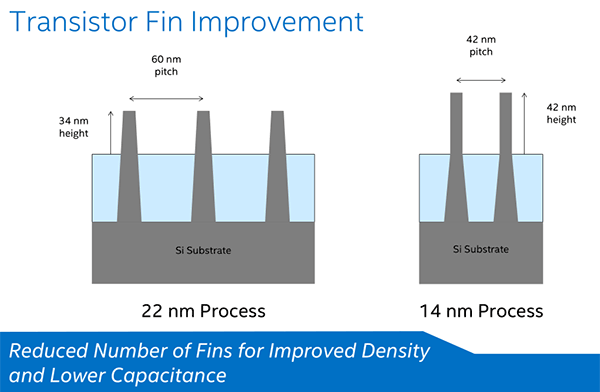 The first systems packing Broadwell processors have been promised for the 'holiday season' with wider processor availability for OEMs in the months following.