A previously unseen roadmap from Intel, showing the release timetable of various processor ranges deep into 2015, has been brought to light by TechPowerUp. The roadmap slides are apparently going to be presented by Intel at the 3D Revolution 2014 technology conference in Rome, Italy. Please note that the slide screenshots have some aliasing errors which makes some letters hard to read.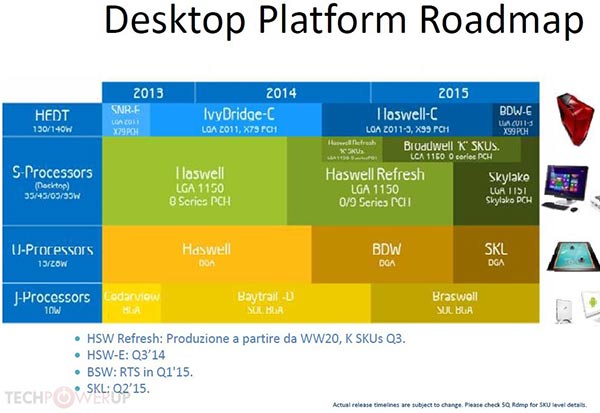 As mentioned above, the slides look well into 2015 with some processor ranges shown to be scheduled for H2 that year. The most interesting slide for us is the Desktop Platform Roadmap, shown above. You can see from this that, for the HEDT (high-end desktop) segment, Intel only starts to begin supply of the Haswell-E processor from Q3 this year. It looks set to reign for a year before Broadwell E arrives. Haswell E intros the new socket LGA2011-3 package, supported by the Intel X99 Express chipset. Its successor looks like it will be a drop in upgrade with the same socket and chipset requirement.
Looking at the mainstream desktop processors you can clearly see the Haswell refresh where we are now, with just a little wait until the Haswell Refresh 'Devil's Canyon' parts show up in retail (25th June). Before Skylake arrives in H2 2015 (Computex 2015?) with a new socket and chipset, enthusiasts will be able to get hold of Broadwell 'K' unlocked CPUs which sit in their LGA1150 socket 9-Series motherboards. Broadwell is based upon a 14nm shrink of the Haswell architecture but will also bring with it a few architecture tweaks.
Turning to the U-Processors with their 15/28W TDPs, meant for battery powered devices like laptops and 2-in1s, we see the first Broadwell chips arrive in Q3 this year. This schedule was previously hinted at by Intel's CEO, Brian Krzanich, last month. Again Skylake for this segment is scheduled for H2 2015.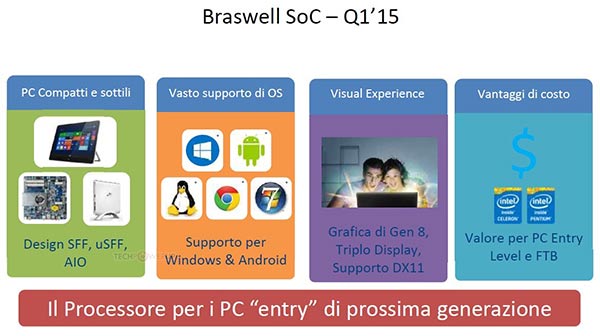 Finally we can see that Intel mobile processors requirements in the 10W and below segment will continue to be served by the Bay Trail D until the end of this year. Braswell will arrive early in 2015, perhaps at CES 2015 or MWC 2015.