As the launch of the Devil's Canyon and 20th Anniversary Edition Pentium processors edges nearer several online retailers have started to list these chips, reports TechPowerUp. These processors are due to be officially launched in June, as Computex Taipei is about to kick off.
Chinese VR Zone has managed to unearth some detailed information to fill in the rather Spartan facts we already had about the Intel Pentium G3258 20th Anniversary processor. The site also provides a purported screenshot of the CPU-Z analysis of the chip (embedded below). You can see, due to this being an unlaunched chip, that it isn't in the CPU-Z database yet so is analysed with the name of Intel Pentium G3420 but lower down in the specifications field you can see it correctly reported as the Intel Pentium G3258.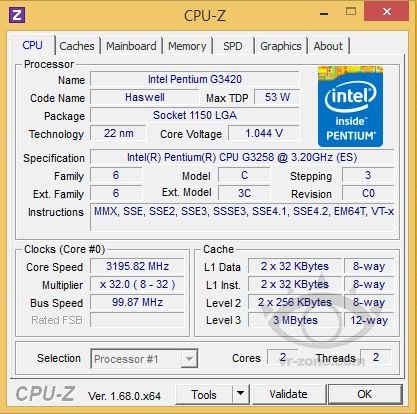 We are told that the Anniversary chip will be an LGA 1150 pin Haswell part supporting both Intel 8 Series and 9 Series motherboards. The unlocked processor has two cores and 3MB of L3 cache. As a budget part it doesn't support some of Intel's advanced tech such as HyperThreading, Turbo Boost, VTd virtualisation, AES or AVX instructions. It will be priced around US$80, says TechPowerUp.
While we have no new info about the two Devil's Canyon processors to share, as a reminder they should have the following spec, as previously reported:
Core i7-4790K: Base freq 4.0GHz, Turbo Boost freq 4.4GHz, 4 cores/8 threads, 8MB cache, TDP of 88W
Core i5-4690K: Base freq 3.5GHz, Turbo Boost freq 3.9GHz, 4 cores/4 threads, 6MB cache, TDP of 88W
Many more details about these chips should be gathered at the Monday, 2nd June launch event. That's not far away folks.