Chinese tech site EXP Review believes that the upcoming Intel Devil's Canyon chips could surpass 5GHz using just air cooling techniques. An Intel PDF has been unearthed which is thought to detail the Core i7-4790K and Core i5-4690K chips and they represent much more of an uplift in clock speeds compared to the Haswell refresh we have seen previously.
You can see the slide below detailing the two first Devil's Canyon chips (it's only just readable so click it to enlarge to full size). Highlights of the spec are as follows:
Core i7-4790K: Base freq 4.0GHz, Turbo Boost freq 4.4GHz, 4 cores/8 threads, 8MB cache, TDP of 88W
Core i5-4690K: Base freq 3.5GHz, Turbo Boost freq 3.9GHz, 4 cores/4 threads, 6MB cache, TDP of 88W
Both chips also support 1600MHz DDR3 RAM and Intel HD Graphics 4600 with a dynamic frequency of 1250MHz. You may also notice that the TDPs, both at 88W, are a smidgeon higher than the Haswell i7-4770K and i5-4670K chips.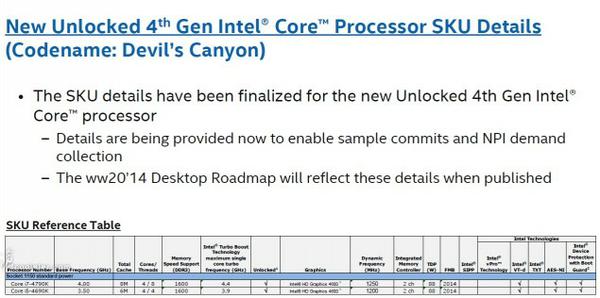 As mentioned in the headline, the i7 Devil's Canyon chip represents the first time Intel has marketed a chip with such a high off-the-shelf clock speed. With its boost frequency of 4.4GHz EXP Review expects this chip to bring the "air-cooled 5GHz era back".
Better cooling should be realised thanks to the officially revealed intention of providing an improved thermal interface material (TIM) and updated packaging for the Devil's Canyon chips. These tweaks should help transfer the heat from the processor cores much more efficiently than other contemporary Intel processors, helping your CPU cooler to do its job more effectively.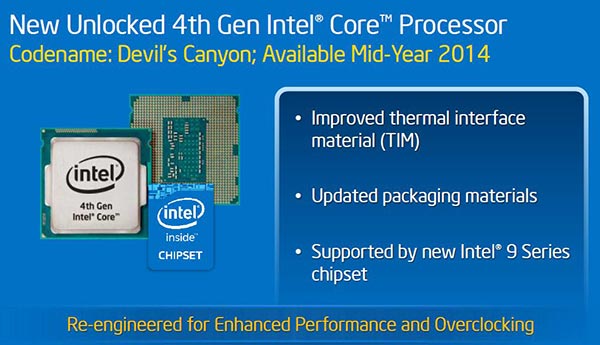 The above two Devil's Canyon chips, as well as an unlocked 20th anniversary commemorative edition Pentium (G3258), are expected to show up in time for Computex in June.