Intel has announced some PC enthusiast targeted processor roadmap enhancements at the GDC in San Francisco. Under the banner of the "Reinvention of desktop computing" Chipzilla announced a new unlocked 4th gen Intel Core processor codenamed 'Devil's Canyon', an 8-core, 16-thread Intel Core processor Extreme Edition and an Intel Pentium processor Anniversary Edition due later this year. Intel also confirmed that it plans to being Iris Pro graphics to the desktop with unlocked versions of the upcoming 5th Gen Intel Core processor family code-named 'Broadwell'.
The final quarter of 2013 was a particularly strong one for Intel and the seven per cent rise in desktop platform sales (year-on-year) seems to have prodded the chipmaker into putting some thought into chips aimed at its PC enthusiast supporters. "The desktop business is a large and important segment for Intel, and we are investing in it – reinventing form factors, experiences and products for our customers," said Lisa Graff, vice president and general manager, Intel's Desktop Client Platform Group. "Enthusiasts are the heart and soul of the desktop and they asked us to give them more. We are delivering – more cores, better overclocking, faster speeds."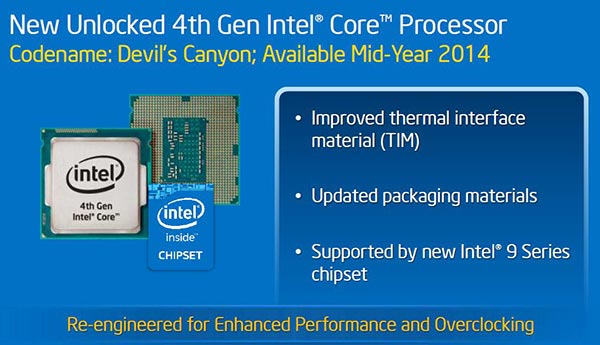 Devil's Canyon
This newly previewed unlocked 4th gen Intel Core processor is due by mid 2014. It's aimed at PC enthusiasts and has been "re-engineered for enhanced performance and overclocking". Notably this chip has an improved thermal interface material (TIM) between the heat spreader and die, to deliver improved heat dissipation. Good CPU coolers will thus be more effective in their purpose.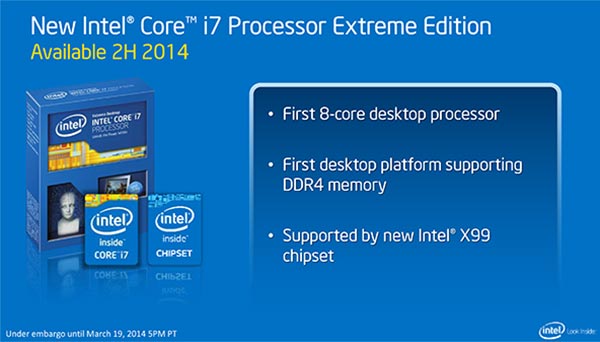 Haswell-E
For the most demanding of users Intel is prepping an Extreme Edition 8-core, 16-thread Intel Core processor. This is scheduled for the second half of this year. This chip will be the first desktop processor to support the new DDR4 memory standard. Intel promises "blazing performance," for gaming, video editing, 3-D content and other high-end uses.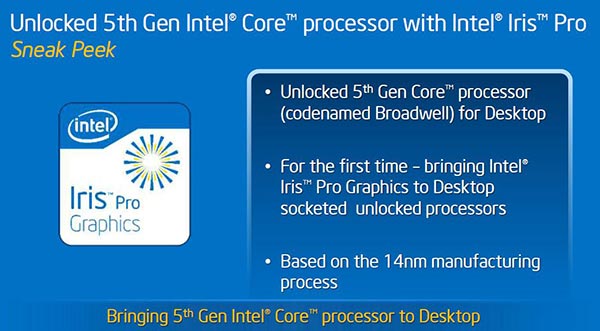 Broadwell
We were also provided with a 'sneak peek' at an unlocked 5th gen (Broadwell) Intel Core processor. This desktop processor will feature Intel Iris Pro graphics. It is to be manufactured using a 14nm manufacturing process.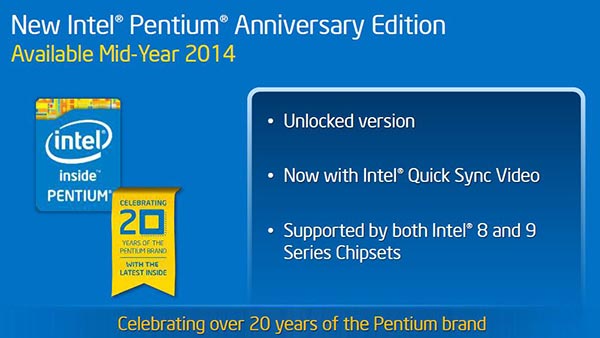 Intel Pentium Anniversary Edition
Another interesting processor introduction coming mid 2014 is the Intel Pentium Anniversary Edition, made to commemorate "more than 20 years" of Pentium chips. This is a chip with unlocked multipliers so enthusiasts can dabble with core and memory frequencies independently from the rest of the system. The new Pentium Anniversary Edition also supports Intel 8 and Intel 9 series chipsets and Intel Quick Sync Video. Will this be a barnstorming processor that puts a big smile on the short-arms but long-pockets brigade?
Intel also talked about its plans for new desktop form factors such as SteamBoxes, mini/tiny PCs, portable AiO PCs – see below.