At an Intel investors and analysts meeting on Thursday CEO Brian Krzanich revealed an expanded Atom roadmap. The aim is to keep pressure on, advancing with Atom chips, in attempt to grasp a bigger piece of the expanding and lucrative mobile market. Chipzilla intends to increase mobile CPU performance by 5X and GPU performance by 15X by the end of 2015 with its new chips. The lofty goal is to accelerate Atom "to be on a par with Core".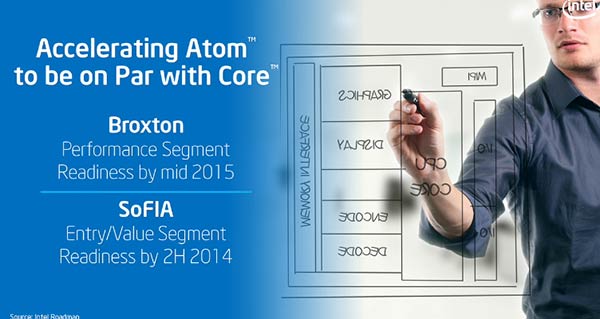 Broxton and SoFIA, newly revealed 64-bit, 14nm Atom SoCs
Intel's Bay Trail Atom SoCs will be succeeded by 14nm Cherry Trail chips in H2 next year. Cherry Trail will be based upon an upcoming CPU core called Airmont and contain Intel's next generation graphics. In turn Cherry Trail will be followed by the faster and more power-efficient Broxton, first shipping in 2015 and based on a new CPU core called Goldmont. A big change between these two future Atom SoCs is that Broxton will be designed on something described as a chip 'chassis' so its components are modular. CEO Krzanich said that this modularity will enable Intel to design specialist derivatives of Broxton at an unprecedented pace.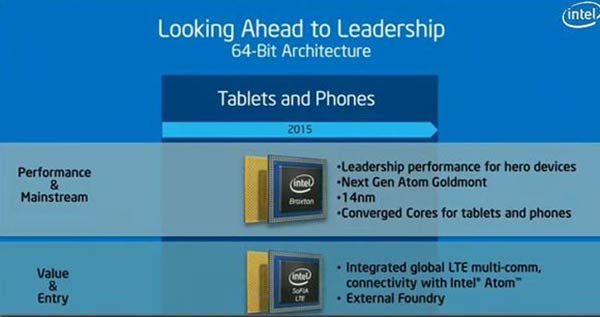 Turning to the entry/level and value segment, which is important for shifting units in smartphones and tablets, Intel will produce the SoFIA chip; it's first with an integrated cellular modem. Initially, in 2H next year, SoFIA will only support 3G and use an ARM chip for this purpose but a later revision will pack LTE connectivity and dispense of the ARM component for Intel's own design. VR-Zone reports that this budget chip will be manufactured out of house "in the interest of speed".
Opening up Intel foundries
With lower demand for its PC chips and a current lack of demand/lack of design wins for its mobile parts Intel plans to open up its foundries to manufacture other company's chips. We heard of one of the first of these deals at the end of October when Intel signed a deal to manufacture Altera Stratix 10 SX chips which are based on a 64-bit ARM architecture.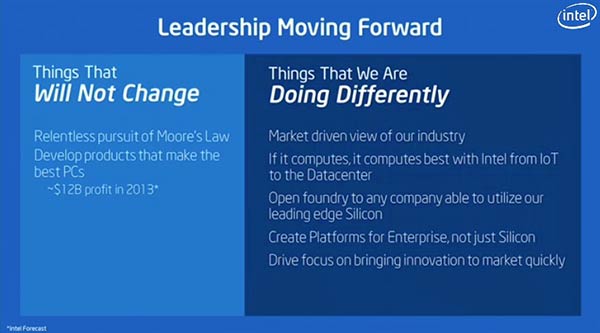 Discussing the surprise announcements and acceleration of the mobile roadmap at the investors meeting Krzanich admitted that "Three months ago this wasn't on the road map". The timing of the announcement shows that seeing evidence of Intel actively striving to improve its mobile offerings is highly important to investors.