In a back room at the Computex trade show in Taipei a reporter from TweakTown was shown the real-time power consumption comparison of two tablets, one sporting an Intel 'Clover Trail', the other a Qualcomm Snapdragon processor. The tablets were of the same size and the Intel engineer undertook identical tasks on both tablets at more of less the same time.
Both tablets were hooked up to a computer that measured the energy use, CPU use and GPU use of both systems in real-time. Overall the energy usage and processor use graphs were broadly similar in the Windows 8 Modern UI. The Intel engineer then launched a game, Angry Birds Space to see how things fared within this type of application combining graphics rendering, CPU processing and sound effects. This time the Intel processor seemed noticeably better at conserving battery power when it came to the static scoring screen due to some "software, hardware, various optimisations". All-in-all an interesting comparison that shows Intel mobile power consumption is currently competitive to that of some ARM chips.
Silvermont 'Bay Trail' devices might be worth waiting for
So, watching the video above you can see a 'Clover Trail' tab might be a fine alternative to an ARM based competitor with pretty similar performance and battery life all else being equal. Intel devices have the benefit of being able to run the full Windows 8 software and all your old Windows apps on the desktop and it is there, rather than in Modern UI apps and games, that you might feel the limitations of the current Atom's processing power. CNet's advice is if you are interested in an Intel tablet (for either Android or Windows use) you should "Wait for Intel's upcoming Silvermont chip".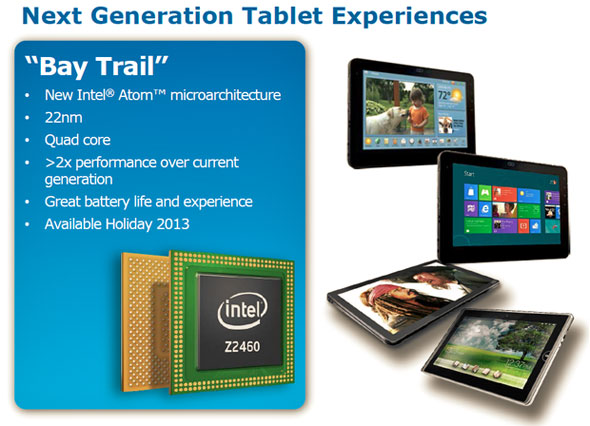 Intel pitted the two generations of Atom processor against each other on stage at Computex using an 'everyday task' benchmark which included an amount of photo manipulation and video transcoding. The Silvermont processor soundly beat its predecessor. Furthermore the Silvermont chip will "enable sleek designs with eight or more hours of battery life and weeks of standby, as well as support Android and Windows 8.1" boasted Intel. As a reminder Intel is aiming to have Silvermont 'Bay Trail' devices on sale by "holiday 2013".