Early tests on an Intel's Core i7-4960X "Ivy Bridge-E" chip show that it is only about 10 per cent faster than the previous Core i7-3800/3900-series "Sandy Bridge-E" chips. The upcoming new Core i7-4960X chip has reportedly been tested by a member of a Chinese overclocking forum called Coolaler.com.
An honorary member of Coolaler by the name of "Toppc" has done a comparison test of the current top-of-the-range Intel Core i7-3970X "Sandy Bridge-E" processor with what he claims to be an Intel Core i7-4960X "Ivy Bridge-E" processor. In the second half of the year, when this chip is scheduled to be officially launched, it is supposed to be Intel's fastest desktop chip. Looking at the benchmarks run by Toppc, the gains aren't going to blow your socks off.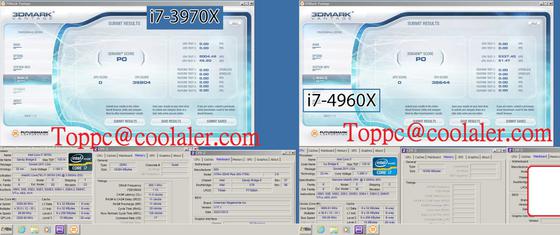 click to enlarge
TechPowerup reports that both chips were tested on an identical setup employing an MSI X79A-GD45 Plus with socket LGA2011 and an Intel X79 Express chipset. Toppc put the processors through comparative tests using SuperPi mod 1.6, CPU Mark '99, WPrime 1.63, Cinebench 11.5, 3DMark Vantage, and 3DMark 06 (the last two for CPU tests only).
Overall the "Ivy Bridge-E" chip won the day, beating the "Sandy Bridge-E" in every test by a range of between five and twelve per cent. Xbit labs put together a table of comparative results which is much clearer to look through than Toppc's own collection of screengrabs. So I've included that table below for your convenience.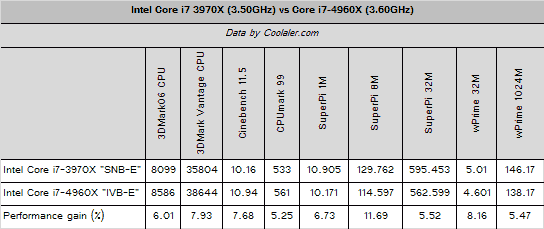 Table compiled by Xbit Labs
Overall it looks like there is not a great boost to be provided by Intel's new high-end desktop (HEDT) processors, however they should be drop-in compatible with the LGA2011 board you already have, if you are one of those at the Intel cutting edge.