Intel has released a new line of low-power SoCs aimed at the server market. The company claims that the new Atom S1200 product family is the "world's first low-power, 64-bit server-class system-on-chip (SoC) for high-density microservers". The new Intel Atom S1200 range offer server-class features with a TDP as low as 6W. Intel has claimed more than 20 design wins, using the new SoCs in microservers, storage and networking systems, from companies including Dell, HP, Huawei and Supermicro. The 64-bit Atom S1200 is seen as an effort to confront ARM head on within Green Data Centres.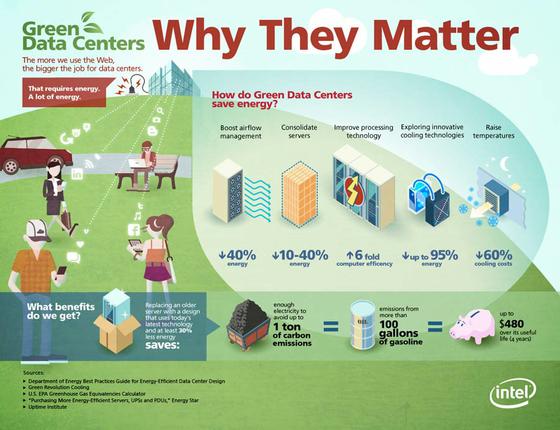 Nice Green infographic from Intel (click to enlarge)
6 watts TDP
Diane Bryant, vice president and general manager of the Datacenter and Connected Systems Group at Intel said "We recognized several years ago the need for a new breed of high-density, energy-efficient servers and other datacenter equipment. Today, we are delivering the industry's only 6-watt SoC that has key datacenter features, continuing our commitment to help lead these segments."
The x86 compatible Atom S1200 product family consists of three processors with clock frequencies ranging from 1.6GHz to 2.0GHz. These Atom SoCs vary in speed and energy consumption but otherwise they have in common the following features:
32nm architecture
two physical cores
four threads enabled with Intel® HT
64-bit support
controller supporting up to 8GB of DDR3 memory
Intel® Virtualization Technologies
eight lanes of PCI Express 2.0
ECC support for higher reliability
and other I/O interfaces integrated from Intel chipsets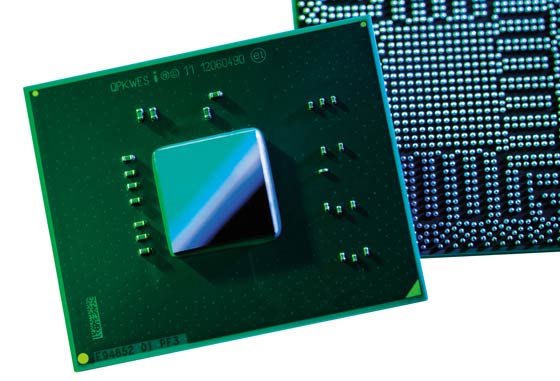 Next generation
Intel is already working on the next generation of extreme energy efficiency Atom processors which are slated to be released in 2013. These will be based upon "3-D Tri-gate 22 nm transistors, delivering world-class power consumption and performance levels." In 2014 there should be a further leap when Intel can make processors using 14nm manufacturing.
The new Atom SoCs are now shipping and priced starting from $54 in quantities of 1,000.