Bay Trail is Intel's Atom platform for 2013/2014, which will support the redesigned, 22nm Valleyview Atom processor, based on the out-of-order Silvermont core featuring Gen7 (Ivy Bridge) derived graphics technology.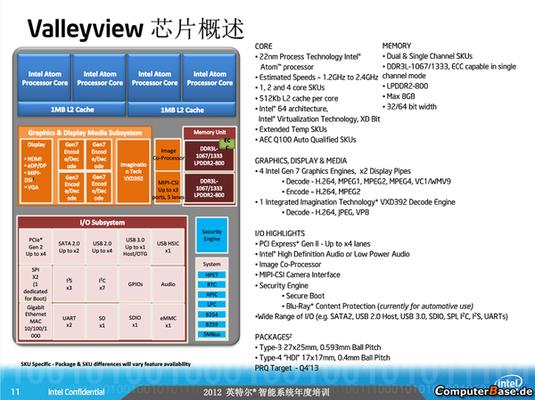 Recent leaks have revealed that the new Valleyview Atom is to feature up to a 2.4 GHz quad-core design, though at the loss of hyper-threading. Graphics will be based on the Ivy Bridge platform, offering a performance improvement at least three times that of Cloverview. At 2.1 GHz, the quad-core CPU is expected to offer a 50-60 per cent performance boost over a 1.5GHz dual-core Cloverview SoC.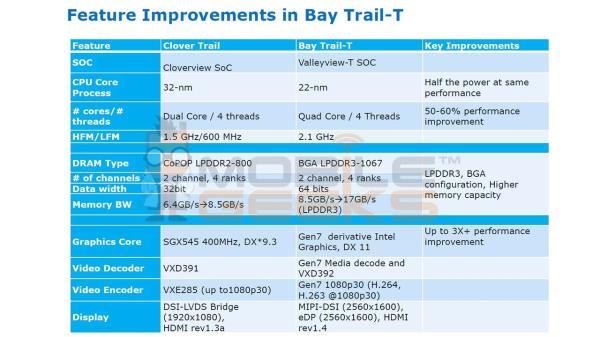 The latest leaks show that the Bay Trail platform will support a three camera configuration, which, when backed-up with a new ISP supporting stereoscopic video shows a clear focus on providing 3D stereoscopic support throughout the platform. In general there are less interfaces present, in a clear effort to root-out those not frequently used and amalgamate several low-speed interfaces with fewer high-speed alternatives, we assume in an effort to reduce power consumption and die complexity.
USB 3.0 host and OTG functionality is now also present, with full Windows 8 compliance. Power-states have been adjusted to support the S1 and S3 states typically seen in desktop processors.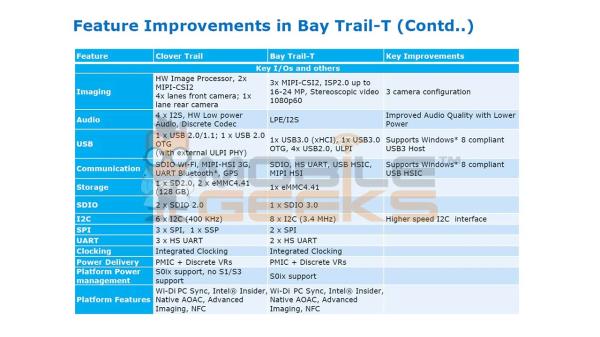 It's clear from the preceding information that the largest boost in performance is to come from the redesigned graphics core, something desperately required in the Atom ecosystem, with resolution support of up to 1600p, however, at 22nm we perhaps expected more of a boost from the CPU and wonder just how it'll hold-up against the 22nm ARM Cortex-A57. Interestingly, Intel has decided that 30 days of standby is more than necessary for a mobile platform and has opted to improve active battery life at the cost of 10 days of standby.