We've always known that Samsung's Exynos 5 5250 dual-core ARM Cortex-A15 SoC would be a serious contender since details were first released earlier-on in the year. However, in an unexpected move, Samsung, in conjunction with HowChip.com, has released a $249 feature-filled development board and with it, some juicy technical details that show the Exynos 5 is capable of blowing everything out of the water.
It has been revealed that the chip, despite featuring a dual-core CPU, in fact features a quad-core ARM Mali-T604 GPU. ARM has been claiming that the Mali-T604 features up to five times the performance of the previous generation found in the Exynos 4 and Samsung has provided an important figure to back this up... 72 GFLOPS.
To place this into context, Apple's just revealed A6X processor, present in the fourth-generation iPad shipping next month, is estimated to pump-out around 50 GFLOPS with its quad-core 500Mhz PowerVR SGX543MP4 GPU. Here's what we now know: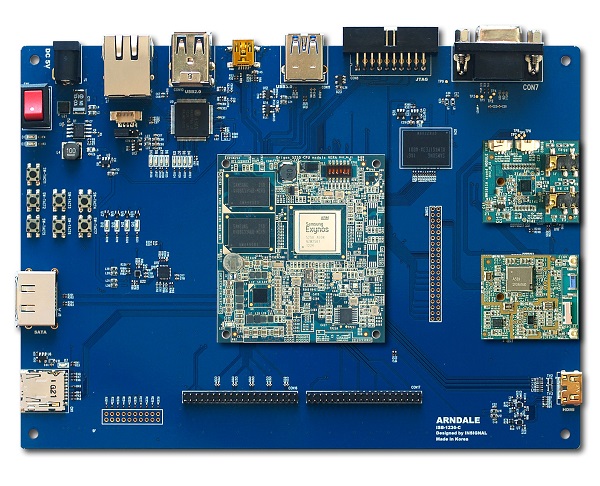 | | | |
| --- | --- | --- |
| Exynos 5 5250 | Specifications | Notes |
| CPU | Dual-core ARM Cortex-A15 1.7GHz 11,900DMIPS (2.0GHz overdrive on some variants) + low-power Cortex-A5 co-processor + low-power audio co-processor | Comparable to Dual-core ARM Cortex-A9 at 2.4GHz for standard clock rates |
| GPU | Quad-core ARM Mali-T604 (72GFLOPS) - Hardware 2D, 3D, rotator, JPEG, Video Codec | ~144% raw FLOPS of Apple A6X |
| Memory | Dual-channel 32-bit 800MHz LPDDR3 (12.8GB/s) | |
| Interfaces | USB 3.0 and 2.0, SATA 3.0, HDMI 1.4, MIPI DSI/CSI/HSI, eMMC 4.5, SDIO 3.0, SD 3.0, EF-NAND 3.0, UART, SPI, I2S, I2C, HS-I2C, eDP, S/PDIF | Both USB 3.0 and HDMI feature built-in PHYs, supports 1600p display (WQXGA) |
| Additional Features | Full Profile OpenCL 1.1, Panel-Self-Refresh, 8MP 14-bit 30fps ISP with 3DNR, VDIS and ODC. 5.1 24-bit I2S audio, hardware encryption | That's enough to capture 4K UHD video at 24fps (supports 16MP at 15fps) |
| Codecs | 1080p 60fps encode/decode of H.264 BP/MP/HP @ 4.2, mixed 30fps support also for H.263, MPEG-4, with decoding only for VC-1, MPEG2 and 60fps VP8 | |
| Further details | Support for full-duplex WiFi/4G modems up to 200Mbps including DMA. 1MSPS 12-bit ADC | |
Samsung has managed to pack a rather epic number of features into a single SoC (and at 32nm as well). The dedicated image signal processor and audio co-processor will provide battery-friendly yet powerful support for media capture and playback, with the ISP not only providing hardware for stabilisation and noise reduction, but also advanced features such as face detection. The inclusion of on-chip PHYs for USB and HDMI will help to reduce overall device footprint and cost.
Most notably this will be one of, if not the first, USB 3.0 ARM chip to hit the mobile market and with support for SATA 3.0 to boot - perhaps important features considering that the device is capable of accessing high-speed flash memory at rates well beyond USB 2.0.
The Exynos 5 supports a retina-topping WQXGA 2,560 x 1,600 display over its eDisplayPort connection with low-power panel-self-refresh functionality, where the display panel retains its image in a local, low-power buffer, allowing the eDP connection to be shut-down for static images. The device supports native dual-display and can simultaneously pump-out a separate 1080p image over HDMI, with support for 3D stereoscopic modes. We can thank the additional memory bandwidth of two-channels of DDR3 for this.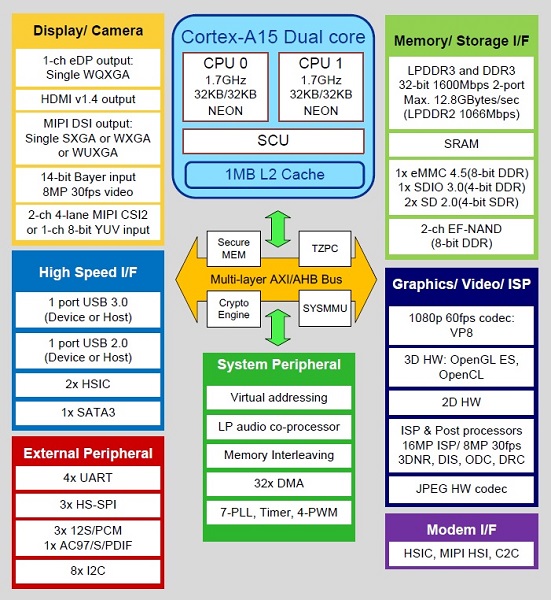 The SoC's ARM Cortex-A15 cores will enable previous-gen quad-core-like performance, within a smaller power footprint, whilst also benefiting from the tendency of applications to be better optimised for dual-core scenarios (much like Qualcomm's Snapdragon S4 dual-core line-up). The Cortex-A15 also features native support for larger address spaces, hardware virtualisation and enhanced vector operations.
The quad-core Mali-T604 belongs to a new generation of embedded graphics cores based around the concept of general-purpose compute modules. It is one of the few designs to offer Full Profile OpenCL 1.1 support through standards-compliant double-precision floating-point number support. This means OpenCL code can be directly ported from a PC with little to no further tweaking. With 72 GFLOPS of compute power, this is the fastest mobile GPU currently on the market. We expect that these new GPUs will see a paradigm shift to GPU optimised apps, as developers look to squeeze superior power-efficiency and uncharacteristic performance out of smartphones and tablets in fields such as Augmented Reality and data manipulation.
Most interestingly, of course, is that with the availability of the Exynos 5, comes the prospect for Samsung's long-rumoured 1600p tablet device. Could we be seeing a true Android competitor to Apple's Retina display and possibly, its fourth-generation iPad as early as this Monday?
For more details on the Exynos 5 "Arndale" $249 development kit, please follow this link: http://www.arndaleboard.org/