It's not a reach to say that the first keynote speech at the Intel Developer Forum (IDF) sets the tone for the company's focus for the forthcoming year. Products and technologies first unveiled at IDF invariably find their way into partner mobile, desktop and server offerings. David (Dadi) Perlmutter, Chief Product Officer, took the reins for this year's keynote, taking over from CEO, Paul Otellini.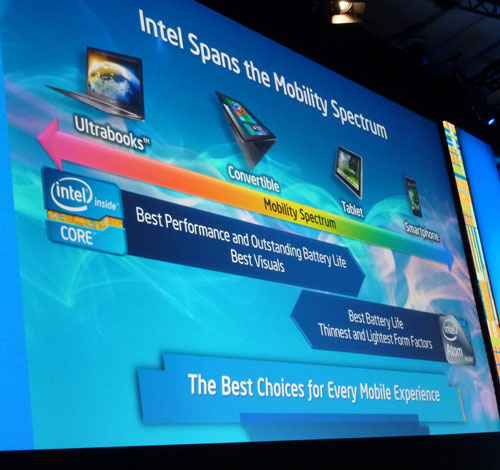 Perlmutter centred his speech on the transformation of personal computing as it pertains to the mobile market. There will be more choice with respect to form factors, he said, citing increasing availability of Intel-powered convertible notebooks, Ultrabooks, tablets and smartphones from big-name manufacturers - all using one consistent architecture.
Haswell unmasked - lower power to the fore
Underpinning these new form factors and designed to reignite interest in Ultrabooks - thin, light and feature-rich notebooks - Intel is to introduce the fourth-generation Core processor, codenamed Haswell. This new chip, to be made available in 2013, represents a new architecture on the present 22mn architecture. Though in-depth architecture details were sketchy at best, especially with regards to exact launch, Perlmutter said Haswell has been designed with energy efficiency and mobility in mind, which is a must for thin form factors and day-long battery life.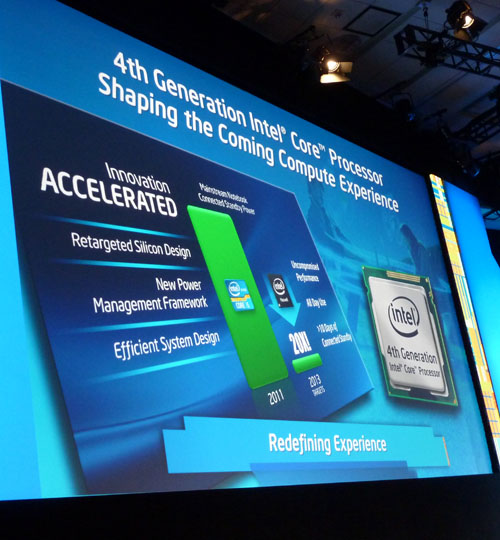 The Haswell platform will have idle power-draw that is over 20x lower than second-generation Sandy Bridge's, Perlmutter beamed, enabling tablet-like standby time. That said, this is not new information; Intel spoke about it at last year's show. Low-power Haswell chips will also consume 10W, compared to 17W for incumbent Ivy Bridge, with scope to go lower. Though he mainly glossed over the other end of the spectrum, super-low-power usage, he mentioned that next-generation Atom, codenamed Clover Trail, will be ideally suited to occupy the sub-5W space, thereby providing power continuity between different product families.
Same speed, half the power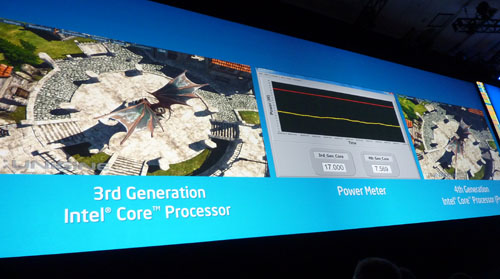 Coming back to Haswell, it's not all about energy efficiency, it seems. Perlmutter demonstrated of a pre-production Haswell chip running the Unigine graphics benchmark, comparing its performance with a same-wattage Ivy Bridge's. Haswell's performance appeared to be twice as fast as the HD 4000 Graphics that reside in Ivy Bridge, from what I could tell. Putting it another way, Perlmutter also showed Ivy Bridge-matching graphics performance at half the power. And do remember that they're both based on 22nm silicon.
Ultrabooks need more than Haswell
Intel proudly boasted that Ultrabooks would constitute some 40 per cent of all notebook sales by 2015. There are no hard-and-fast numbers relating to Ultrabook sales in 2012, though industry research companies reckon that these premium thin-and-light notebooks currently account for just a few per cent of overall sales. It will require new thinking for Intel not to be sandwiched by rival products by Apple - the iPad and MacBook. Perhaps Haswell's power efficiency and significantly lower price points may catalyse and reignite interest in this fledgling category.
All in all, Intel's first keynote at IDF was remarkably bereft of juicy technical content. Let's hope it gets better as the week draws on.