Intel has been focussing on reducing power consumption of its chips. Not many years ago only megahertz mattered as Chipzilla and AMD battled each other throwing up ever-higher headline MHz speeds, in what seemed like a race to the moon. That numbers game was sidelined with the arrival of the Pentium M range of processors with their large caches, cool running and with great performance. Since then things have developed further and marketers are emphasising numbers of processor cores in their sales efforts. People, however, are not as blind to these figures as they used to be. Most people know a good balance is required, especially in the ever-more-important portable computing market. Also Intel now has a new foe which dominates the growing smartphone and tablet markets with its superbly energy-efficient processors: ARM.
Back to the point of the article! The new upcoming range of Intel chips codenamed Haswell will be launching sometime in 2013. Understanding that power efficiency is of utmost importance in all computing environments, especially mobile, Haswell processors will reportedly come in at as low as 10 watts TDP. That figure is a great improvement over Intel's current best Ivy Bridge efforts, which use a 17-watt TDP. The Haswell 10-watt figure is said to include the power consumption by the integrated GPU, too.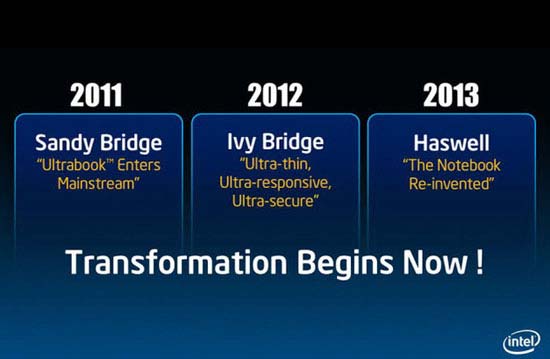 Michael Rougeau of TechRadar spoke to Intel about the Haswell rumours and was told by and Intel rep "Last year when we set out to reinvigorate the industry around Ultrabooks, we said we'd cut the mainstream mobile processor design power in half to enable this new category of laptops." While the rep said he was pleased with the current range of Ultrabooks he said the new processors are "built from the ground up with the Ultrabook in mind." The rep confirmed the new chips will be "targeted to operate at about 10 watts initially, while continuing to preserve many of the other benefits of Intel Core processor including leading performance, low idle power, single-chip packaging, and new graphics & security capabilities".
TechEYE.net has also had some inside info from Intel which details the intended 2013 Haswell Ultrabook configurations. A standard Ultrabook must not have a bill of materials exceeding $699 and for that the following must be supplied "All day battery life at nine hours, voice command, HD video chat with a 720p resolution camera, as well as a wireless display, robust Wi-Fi, bundled anti-virus protection in the consumer model, and a multi touchpad." Also at least 16GB of NAND storage must be integrated for "while using" functions. No current hybrid drives have that much NAND built-in so perhaps manufacturers will have to include dedicated SSDs if nothing else develops in the meantime. Touchscreens won't be a baseline requirement of the new Ultrabooks, mind.
That's all the Haswell info I have for now, folks, but keep your eyes open for more Intel news and views from our own man at the IDF - Tarinder. The show starts today, but US Pacific time is eight hours behind Blighty so he's probably still scoffing fluffy buttermilk pancakes and maple syrup at the hotel.