After what seems like glacial progress during the last four years since the debut of the Intel Atom things look like they are heating up for the low cost, low power chip. Today EXPreview uploaded a series of slides showing a never before published roadmap for the Atom line of SoCs offering clear insights into the future of the Atom platform. The Valleyview architecture will offer more cores, faster clock speeds, support for more memory and better integrated graphics than any Intel Atom before.
The new platform name for Valleyview SoCs is Bay Trail. Bay Trail will replace 32nm Cedar Trail SoC chips intended for industrial and embedded usage (ValleyView I), entry level desktop (Valleyview D) and Netbook (Valleyview M) systems. Small form factor consumer systems and tablets currently served by 32nm dual core Clover Trail SoCs will in the future be served by the Valleyview T series.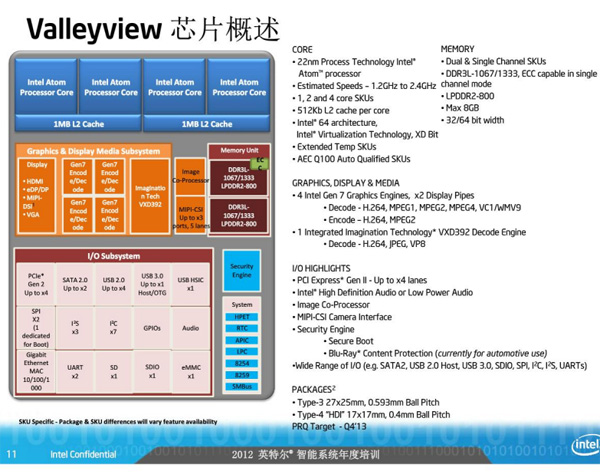 The Valleyview SoC is detailed in the leaked slide above. Valleyview will be powered by between one and four Silvermont 22nm cores running at speeds between 1.2GHz and 2.4GHz. Every core will get 512Kb of L2 cache. The Intel GPU the built into the SoC design will be Ivy Bridge Gen7 graphics engines similar to HD4000 and HD2500 GPUs but cut down in the number of execution units. All in all this is quite a big step above what is currently offered by Intel Atom powered systems.
Bay Trail platform Valleyview SoC key features
22nm Silvermont CPUs
Speeds range between 1.2GHz and 2.4GHz
Single, Dual & Quad core options
64-bit
Out of order execution ability
Support for up to 8GB DDR3 RAM
1080p HD 60fps playback of most popular codecs
Intel HD graphics culled from Ivy Bridge
Up to four PCIe lanes, SATA 2.0, USB 3.0, LAN, Audio
These chips won't be seen in the wild until Q4 2013 or early 2014 but it's nice to have a look ahead at what is coming up on the ever more important low power consumption SoC horizon. While we have a lot more info about Valleyview we don't know much about real world stuff like prices, performance and power consumption. However competitors like AMD and ARM-based processor makers like NVIDIA and Qualcomm won't be standing still and letting Intel move ahead unhindered.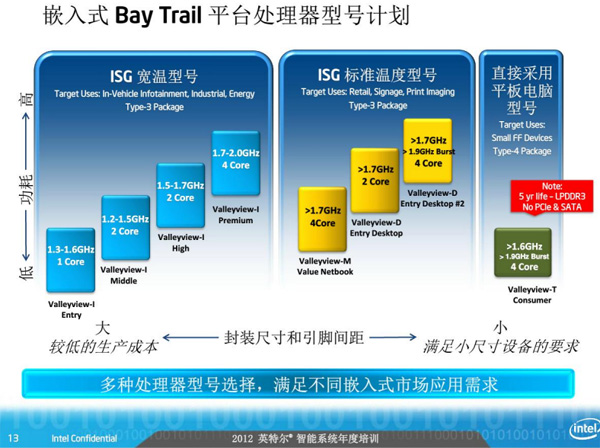 If you want to know more about Bay Trail/Valleyview take a look at the full extent of the leakage over at EXPreview (partly in Chinese).