New figures from market analytics company IHS iSuppli show that Intel increased its semiconductor market share to 15.6 per cent in 2011. That's an increase of 20 per cent on the previous year's revenue and its highest annual market share in more than 10 years.

You might think that 15.6 per cent isn't that big a share for Intel, probably the best-known microprocessor maker in the PC-orientated world, but the semiconductor market includes many other facets, and competitors. Your PC is full of semiconductor-containing products such as memory, flash memory, graphics processors, I/O controllers, wireless and networking components.

With reference to Intel, the growing popularity of SSDs means a boost in demand for its NAND flash memory. Further, the acquisition of Infineon's wireless business unit helps keep the pennies trickling in for group revenue. Having fingers in pies of these storage and networking IT growth markets, as well as strong demand for its well-known CPUs/chipsets, has helped Intel keep well ahead of Samsung (9.2 per cent market share). The growth is impressive when set against the backdrop of steady overall semiconductor revenue from year to year.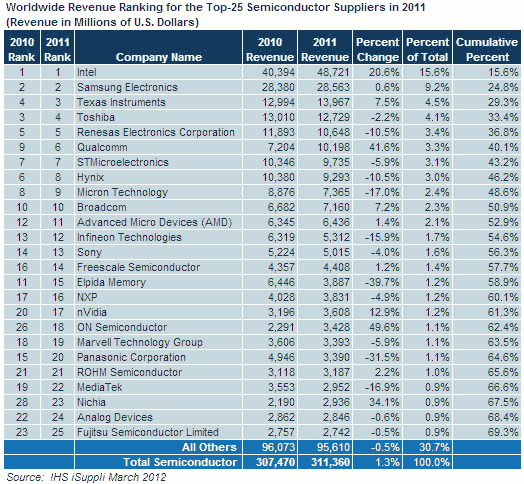 If you look at the table above, you can see two other significant percentage change risers from last year; firstly Qualcomm, with its focus on wireless and mobile technology, which are also booming IT sectors right now. Secondly ON Semiconductor, a supplier of high-performance and energy-efficient electronics. Everyone wants energy efficiency, so that the batteries in our gadgets last longer, and it looks like that is part of the reason for ON Semiconductor's success. Also it has some interesting high-efficiency wireless charging ICs announced less than a week ago.

Going back to Intel we see that it's pushing forward this year with Ivy Bridge chips becoming available in the next few months. This move is also following the smaller, more efficient, therefore more portable impetus of all the successful companies in the above table. Right now it looks like 2012 should be another good year for Intel.