Word on the street is that mass shipments of Intel's next major CPU refresh - codenamed Ivy Bridge - have been delayed until June.
Bad news for those itching to see what the Sandy Bridge successor has to offer, but perhaps we won't have to wait much longer as engineering samples are already beginning to appear online. Chinese website expreview.com claims to possess a yet-to-be-announced Core i5-3570K, and it has the pictures to prove it.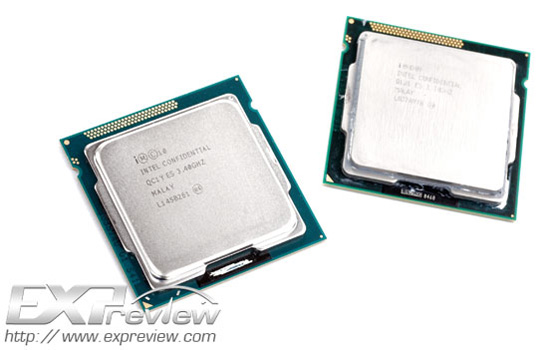 The pre-release Ivy Bridge chip is pictured above-left, alongside this generation's successful Core i5-2500K.
What's more interesting than the chip shot is the screengrab below, which depicts certain elements of the i5-3570K specification. If the details are accurate, the quad-core 22nm chip will arrive clocked at 3.4GHz while carrying a 77W TDP. Without taking other architectural advancements into consideration, the chip is clearly quicker and less power hungry than the 3.3GHz, 95W i5-2500K it looks set to replace.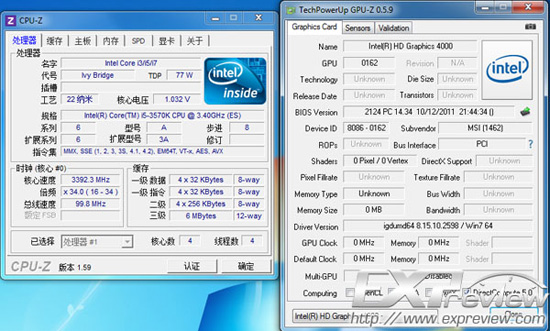 Boosting CPU performance has never been a problem for Intel, of course, but the capability of the company's integrated graphics silicon has historically been more of a concern. Will that change with the introduction of Ivy Bridge?
To help shed some light on the situation, expreview put the i5-3570K through a series of GPU benchmarks and returned some interesting results. The chip, armed with an Intel HD 4000 graphics core, is said to feature 16 execution units (up from the current generation's 12), and a core frequency of 1,150MHz.
Putting a real-world slant on the numbers, the i5-3570K was used to run 3DMark Vantage and managed a score of 3,967. That's a massive 117 per cent increase over the 1,830 3DMarks scored by the i5-2500K, but, going by our own internal numbers, isn't quite enough to match what's already on offer from AMD's Llano - whose IGP scored 4,261.
Still, this is shaping up to be a major improvement for Intel's IGP, and it should be enough to power low-resolution gaming. At 720p, the chip is said to manage 58.8 frames per second in Street Fighter IV, and 44 frames per second in Dirt 3. Throw DX11 support into the mix, along with second-generation Quick Sync technology, and the i5-3570K with an HD 4000 IGP is starting to show a bit of promise for a 77W all-in-one solution.