Between courting controversy with HP, Oracle has been holding its annual technology conference this week, and took the opportunity to show off an all new SPARC CPU.
The 40nm 1.65GHz 16-core SPARC T3 processor supports a massive eight threads-per-core, enabling 128 simultaneous threads per CPU. The chips also get 6MB L2 cahce, though the massive amount of parallelism may put the squeeze on the on-board memory. Nonetheless, the company is promising double the throughput and I/O bandwidth compared to the previous generation of chips.
While the single-socket T3-1 server comes in a two server-rack unit (2U), the manufacturer is also shipping two-socket 3U and four-socket 5U versions. The latter manages to combine four of the processors with up to 512GB of RAM for a 64-core, 512-thread monster. Up to eight of these can be combined in a standard data centre rack, for a total of 4,096 simultaneous threads.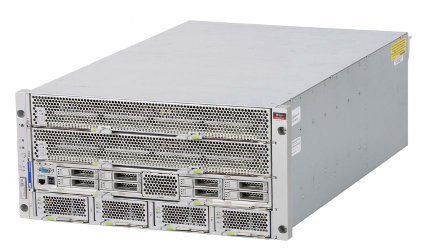 Unfortunately, the two key pieces of information - the cost and the power-usage - haven't been made available, so there's no way to tell exactly how practical these chips are. At a time when performance per watt is becoming especially important in the server market, this data will be crucial to many potential customers.
Interestingly, this is the first processor from Oracle to be released under its own name. The company purchased Sun in the first half of last year for somewhere around $7.4 billion and now appears to have chosen to use its own branding on the venerable SPARC line of processors.
Oracle is promising that the T3-based servers will be shipping to customers within the next 30 days.