Intel CEO Paul Otellini delivered the first keynote address at this year's Intel Developer Forum (IDF) technology conference held in San Francisco. Set against a backdrop of challenging market conditions, underscored by below-par third-quarter earnings in 2010, Otellini remained bullish on the long-term prospects for Intel's chip production.



Getting more Intel chips into the market



While Intel is strong in making chips for desktop PCs and notebooks, Otellini commented that significant growth in chip demand will stem not from Intel's traditional base - PCs and servers - but from the billions of devices connected to the Internet. This sounds like Intel is looking to continue aggressive moves into the mobile market.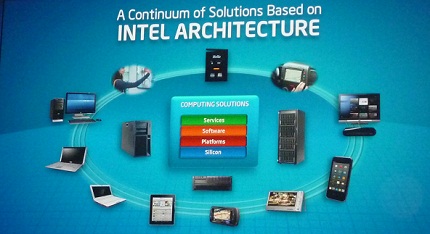 Intel is transitioning from being a chip builder to a solutions company, according to Intel's boss. What this really means is that the company is looking to expand its footprint from silicon production to greater visibility and penetration for platforms, services, and software. A case in point is the Wind River software acquisition last year, which opens up new markets and customers for Intel's burgeoning Atom processor. Following on from this, Intel will look to pursue further opportunities with Atom in the lucrative embedded field.

Otellini briefly touched on the next-generation Sandy Bridge microarchitecture, due to debut in Q1 2011. "Sandy Bridge will evolutionise computing," he said, hinting improvements in general processing and, tellingly, significantly better graphics performance. We'll learn more on this during the remainder of IDF.

What we take away from Otellini's keynote is the fact that while Intel is very comfortable as a mass-producer of cutting-edge silicon that powers most computers. However, it's now continuing to make overt gestures at moving into different markets, specifically looking towards tapping into low-power devices - be that smartphones or embedded solutions. From what we can tell, it's banking on the Atom chip, and its derivatives, to make this happen.