Late last year, Intel officially scrapped plans to launch its many-core Larrabee architecture as a standalone graphics product. The much-delayed architecture wasn't wholly relegated to the dustbin of history, as the chip giant inferred that it would be harvested for the high-performance computing (HPC) environment.

Keeping that veiled promise, Intel brought Larrabee partially back to life with an announcement at the International Supercomputing Conference in Berlin, Germany, over the holiday weekend.

Kirk Skaugen, VP and general manager of Intel's Data Center Group, announced that Intel will deliver a Many Integrated Core (MIC) architecture using Intel's x86 processors - sounds a lot like Larrabee Redux to us.

Dubbed 'Knights Corner' and shipping to select developers as industrial design and development kits right now under the 'Knights Ferry' codename, the new HPC-orientated architecture will be based on the upcoming 22nm manufacturing process and will have, ultimately, more than 50 Intel cores on a single chip. Tellingly, Skaugen commented that "The Intel MIC architecture is derived from several Intel projects, including "Larrabee" and such Intel Labs research projects as the Single-chip Cloud Computer."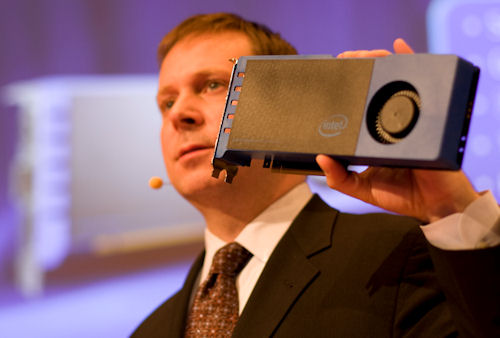 Skaugen held up a 32-core, 128-thread development board, looking much like a modern graphics card with a PCIe interface, saying that it's designed to target 'high-performance computing segments such as exploration, scientific research and financial or climate simulation'. That means no gaming, folks.

We'll know more about the architecture and how it differs from the ill-fated Larrabee in due course.