The world's high-performance-computing attention is focussed on Austin, Texas, this week as the Supercomputing Conference (SC08), now in its twentieth year, takes centre stage at the city's Conference Center.

The world's biggest IT names are out in force, vying for attention with ever-more-powerful systems designed to process teraflops of performance from machines housing hundreds of CPUs.

Intel and AMD, naturally, had a vested interest in being visibly represented, so we took a stroll to downtown Austin on a balmy afternoon.

Stepping on to the Intel stand and representatives were keen to point out that the company's CPUs account for around 75 per cent of the TOP500 Supercomputer list, with the majority of clusters using Xeon processors.

Intel's recently-introduced Nehalem architecture took centre stage, with the help of Tyan and Super Micro, both of whom were showing boards supporting a 2P Xeon (Nehalem, EP) configuration.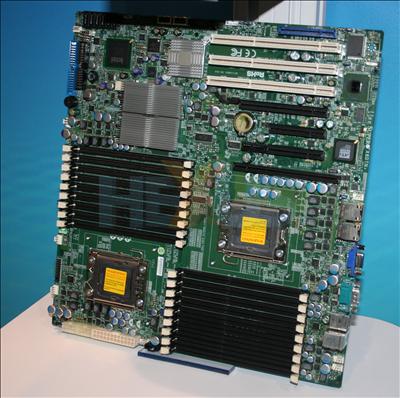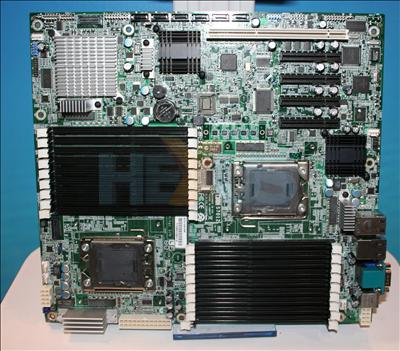 Here's the Tyan Tempest S7012. Note the nine DIMM slots per processor?

Initial configurations of 2P-capable Xeon Nehalem-based CPUs are in production now, we were told, with the processors going on sale in Q1 2009. However, they'll be little more than incumbent Core i7s with a second QPI link for inter-CPU communication, based around the Tylersburg/Gainestown platforms.

Knowing the state of play, AMD, with the recently-introduced Shanghai Opterons, will have around three months to gain a little more market share before Intel comes wading in with new-and-improved Xeons.

Quizzed further, Intel's mouthpieces weren't keen on providing concrete details on Xeon Nehalem EX, the 4P variant, and the non-committal responses led us to believe that we'll be seeing them much later in 2009 than originally expected.